The use of feather flags or teardrop flags banners is increasingly growing. Not only presenters at trade shows use them to promote their services and products, but also community centers, retail shops and local sporting events use these marketing tools to draw the attention of passer-bys.
These banners are not very large, so they need to be placed at locations where people who walk by will see them. They are colorful and can display any information or business logo in a way that is not static like a standard sign. On the contrary, these flags capture the breeze and move in a vibrant way that catches potential customer's attention.
Some creative uses for feather flags are:
•Open house signs to offer houses for sale or rent. The flags can be easily moved from one location to another and they capture the attention of potential buyers.
•Sporting events. Feather flags are perfect for presenting stadium and track records, sideline promotions, banners in ski resorts and even golf pole signs.
•Concerts and shows. Feather flags can be placed at concert halls, to point people to shows or to announce upcoming events.
•Feather flags can be used indoors as well as outdoors and they offer great versatility that not all signs posses. They are also very easy to transport, set up, and take down which will save you time and money.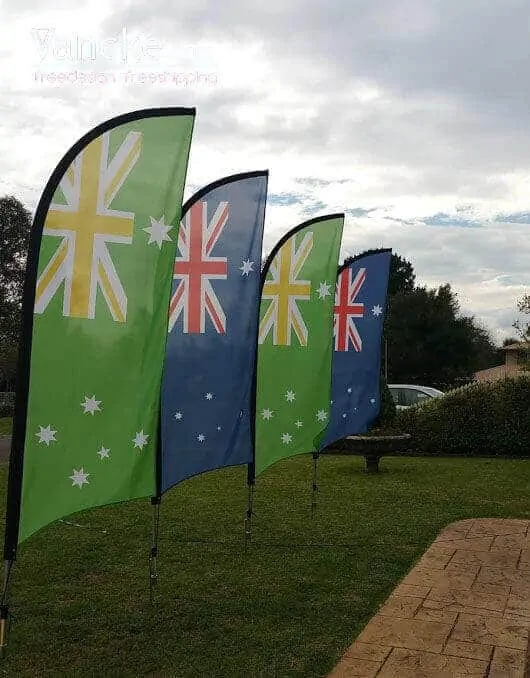 When it comes to driving everyone´s attention into your stand, there is no better way than using feather flags. Just think about it for a moment. You are in the middle of an outdoor marketing event. You look at all directions, and just right there, in the distance, you spot those superb feather flags flying right next to a stand. Where would you go?
Feather flags make an incredible impact on visitors and it is one of the most effective solutions to stand out at any kind of event. Let´s see why:
Locating: With feather flags around your stand, everyone who is not really sure about where to go will walk towards you, because you are definitely more noticeable than other booths on the event. So, you have much more chances to increase traffic into your stand. Besides, feather flags are very effective signs and everyone who is interested in visiting your stand will find it right away.
Eye catching: You can print on them any kind of graphics and images with a really high quality resolution. Their bright colors and magnificence sizes are perfect to transmit your company message. Nothing is better for exhibitors to print their images, logos and graphics on those gorgeous feather flags that everyone can see.
Flexibility: One of the best things about feather flags is that they can be used not only outdoor but also indoor. There are different designs and formats to suit your needs. In case you are taking part in an indoor event, you can make a good use of smaller feather flags, printed with special inks of really bright colors that look really attractive under artificial light effect. Actually, if you are interested in waving flags, you can include small fans to guarantee this effect indoors. On the other hand, if you are outdoors, but weather is not windy, you can choose an L shaped pole format that always keeps the flags open. This way, your message will be never lost in the folds.
Easy to use: Feather flags are very simple to assemble and erect. Just a few minutes are enough to place them whenever you want. Actually, they have different bases that can be used according to your needs from folding cross bases, water–filled bases and drive on base.
Feather flags are a great option for people who really want to stand out among others in a very crowded event. These flags are perfect to increase your company presence, to build a brand, to transmit your message and to guide people into your booth. They are magnificent and make you look magnificent too.
https://vancke.com/wp-content/uploads/2017/02/feather-flag-image19.jpg
678
530
Allen Liu
http://vancke.com/wp-content/uploads/2017/03/logo.png
Allen Liu
2017-02-22 04:48:10
2018-01-14 14:01:27
Get Feather Flag Banners