Looking for a lightweight, portable and convenient advertisement to take your message on the road? Need some indoor and outdoor advertisement display medium? If yes, then the outdoor pop up A-frame sideline banner may be just what you need.
Pop-up A-frame banners are eye-catching, portable advertisement signs that come in various shapes and sizes. They are also called pop-out banners quickly set up and can be taken down within a matter of seconds.
They are perfect to use both indoors and outdoors like on the sidelines of sporting field events like a football field, basketball or football tournaments and at gymnastics meet.
They can also be used at cross-country or track events, on golf courses, at car or trade shows, at road races, at beach events like surfing competitions and even at tourist attractions like aquariums, zoos, and museums.
What exactly is pop up A-frame sideline banners?
Well as the name suggests, these frame signs pop up and fold down in seconds using the help of twist and fold technology. It's designed to offer maximum weather and impact resistance and is easily secured to the ground only by using its provided ground stakes. You don't even need the help of any additional hardware or assembly.
These banners have a folding metal frame that can be collapsed to conveniently fit into a storage bag to store in between use, and for easy transportation from one venue to another in the car boot or back seat. As the frames do not present any injury risks to players or onlookers, they are ideal and safe for use both on sports events and trade shows.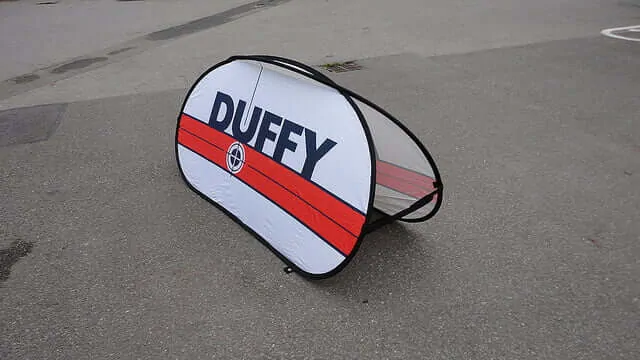 How they can help your company?
These banners can indeed promote your business as they can be customized as per your specifications. It ensures your potential customers, patrons and clients see just what you want them to see, and nothing more or less.
It is ensured by using digital printing to print high quality, customized and vibrant graphics on the banners. This form of printing practically prints your chosen graphics and text directly off the printer. It doesn't matter if the chosen images are simple or detailed, are big or small or have simple or detailed feature solid colours or gradients, anything can be printed using digital printing. And even though you can choose and use a rainbow of colours in your printing, it's always better to keep your audience in mind while creating your advertisement.
Remember where the outdoor popup A-frame sideline banner will be placed, and how well your customers and patrons will be able to recognize and process the small images or similar colours used in it. Like always, your target market is most receptive to simple messages as it's easier to absorb and retain whatever information is in the message.
The images and advertisements are stitched onto the flag using T pearl stitch and double –sewing lines for extra durability and function. The flag is then finished with a thick, black canvas pole sleeve and have pegs that keep the display secured to the ground even in windy conditions. The sturdy carrying bag that comes with the banner can also used as the display base, which is held in place using pegs.
Well designed for outdoor use
Though lightweight in design, these flags are well designed to provide durable and continuous advertisement outdoors. They stand up well outside with its robust base framework made of flexible fibreglass poles.
Some of them have its graphic portion crafted using semi-permeable mesh polyester fabric that allows a slight wind passage through the flags. This, in turn, ensures the flag doesn't blow over in windy conditions.
Each A-frame comes with galvanized steel stakes stuck through metal rings used for securing the signs to the ground when placed on soft surfaces like sand, snow, grass or soil. In case of harder surfaces like concrete, pavement or artificial turf, it's better to place a water base or sandbag across the distancing straps for added weight and security.
Besides, as pop up A-frame banners are digitally printed using dye sublimation process, the inks and the flag are UV protected and completely washable. It's because the 250D polyester banner is washable, durable and weatherproof that it's ideal to use in both an indoor and outdoor environment.
These graphics last for as long as 3 to 6 months in the sun before it starts fading. This is why it's better to keep the banners indoors when not used for advertising to prolong its looks and life.
Perfect for regular use in different venues
Pop up A-frame banner sideline banners are ideal for transporting from one place to another as they are compact and light in size. This makes it suitable for you to transport and use them at different exhibitions, trade shows, sports events and other venues as and where required. And as the banners come with their carry bags, all you have to do is take down the flag, pack it into the bag and either carry by hand or throw into your car boot or back seat.
Besides, with space being a primary constraint for advertisement, you can save lots of money using pop-up banners as they require little space to advertise your product or services. It uses minimum space to generate maximum sales of your product or services as they are narrow and high and thus don't need too much of floor space to create a significant impact on your business.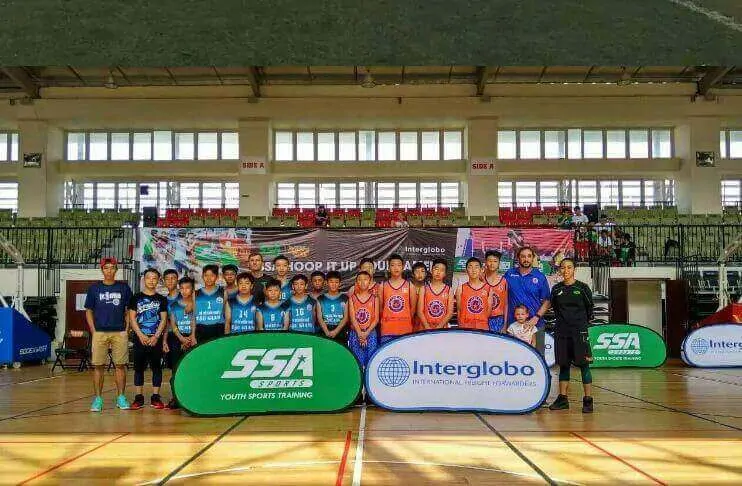 Much better option
It goes without saying that outdoor pop up A-frame banners are indeed effective at quickly and efficiently catching the passerby attention. They are a more reasonably priced option when compared to than other standard advertisement options used in trade shows like retractable stands, multi-panel fabric pop-ups, and ceiling-mount graphics and are much more difficult to deal with. Besides as these banners make an excellent choice at trade show exhibitions as they are light and portable, and no matter if you like it or not, you will have to make multiple trips in and out of a venue or hall.