Three Steps to Promote Your Business and Events by A-frame Pop-up Banner
Vancke Flag Banner is an established company. It specializes in the manufacture of leather flags, teardrop flags, and pop-up A-frame banners. It has been able to put a grip in the market because of its affordable products. You don't have to be a fortune 500 company to access its products. All you need is a love for marketing your business. Some of the major benefits that this company offers to its customers are: free design and shipping for its products. The uses of their products are limitless. You can use them in promotion of your products, general commercial marketing, during parties, outdoor events and parties, and any other relevant event.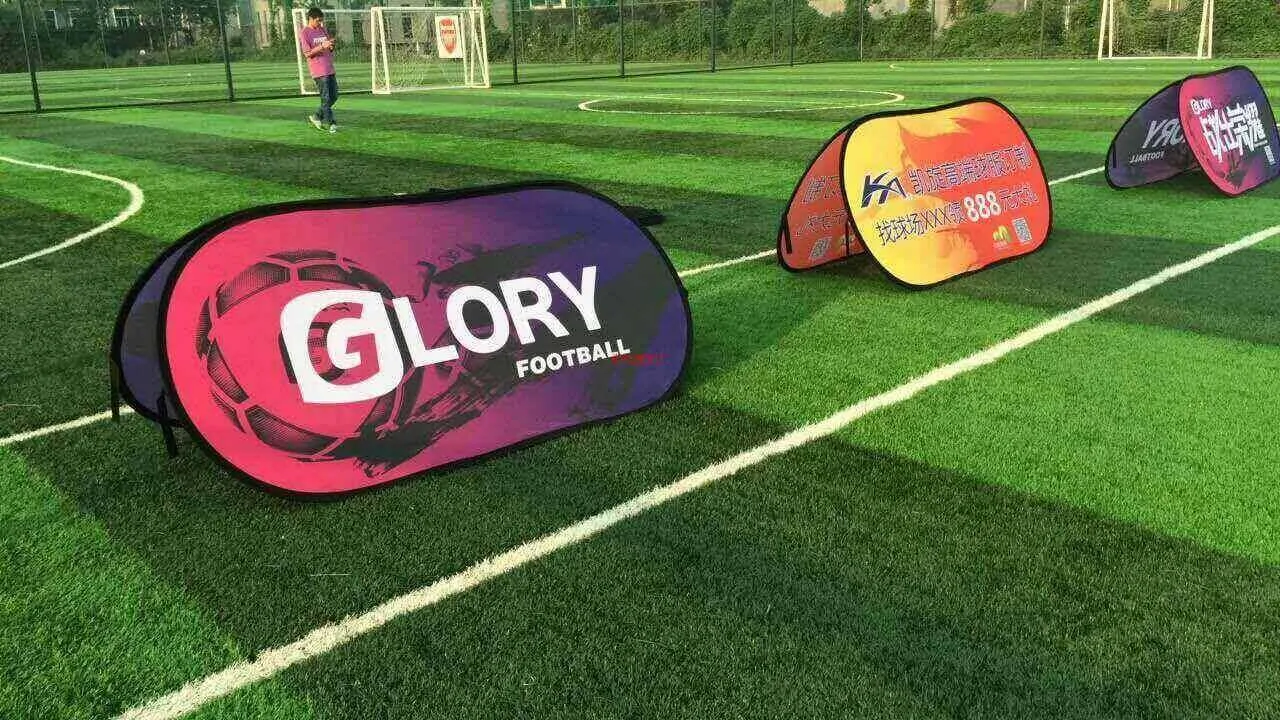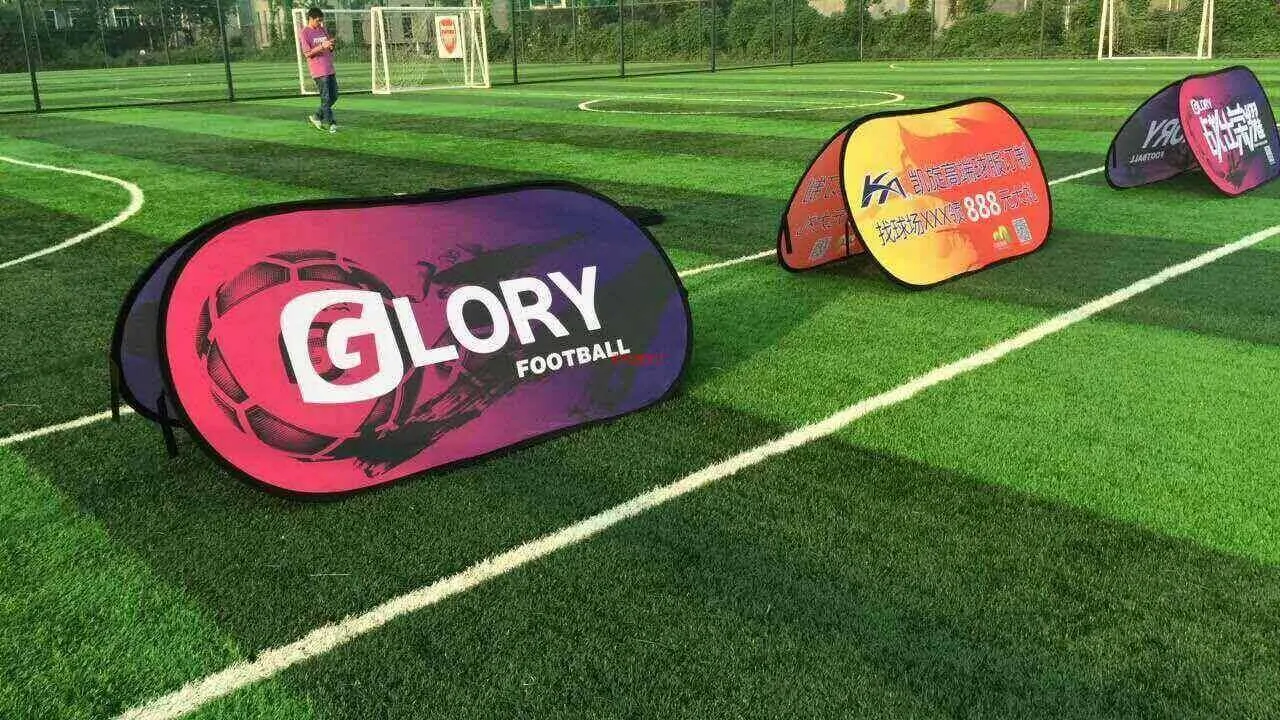 A popup A-Frame banner stand is lightweight and portable. Those attributes make it useful for commercial advertising. Unlike the traditional advertisement methods, which were permanent and costly. These banners make their usage applicable to any place. Because of their size it is easy to transport them and also their view is of a wider scope.
There are many aspects which make popup A-Frame banners popular (especially those by Vanckle Flag Banner). As I mentioned earlier Vanckle Flag Banner provides after sales services which are blessings in disguise.
Even with our modern day technology, the appeal of digital marketing, it is really hard for us to let the chance of visual marketing guides slip away from us. As some guy said back in the day, "we cannot abandon our past for the lures of the present". This is how popup A-Frame banner stands have come in. They are modern day ways of ingenuity which try to reconcile with the past, and also keep up with the present. Now that you have had a proper introduction on the product, let's see its benefits.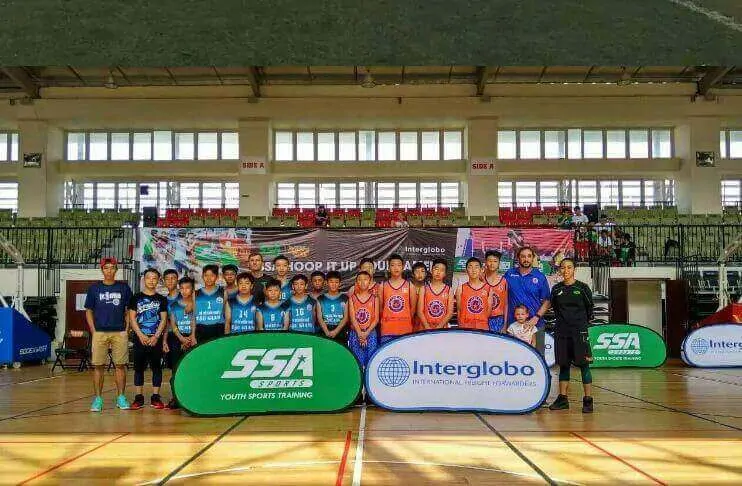 If you have ever had a business in the city center, then you can agree with me. It is sometimes hard to pitch in your
product information at the nearest billboard. First, the town management will suck your pockets dry. Secondly, the canvas printing guys will thank you for your cash as they laugh all the way to the bank. Why is that? Popup A-Frame
banner stands are a simpler solution. No one will ever charge you much if you have them at their premises, you also undergo no cost by having them at yours.
The popup A-Frame banner stands take very little space. They come in different sizes. This allows your customers to view your message with comfort from anywhere they see fit, this is done without ease. Their nature also allows them to get easily assembled anywhere. In fact, there is no hard work. All you have to do is carry them. Please note that whenever they are used on hard ground, you need some form of weight support.
The nature of popup A-Frame banner stands allows them to be mounted horizontally or vertically. This means that they can adapt to any environment without any problems. Are you that person who hates carrying heavy loads? It is not a crime to be one. These banners can be moved virtually anywhere (if you had a coffee shop on the moon, then you'd start off easily). To take advantage of the market, you could place your banners on the beach.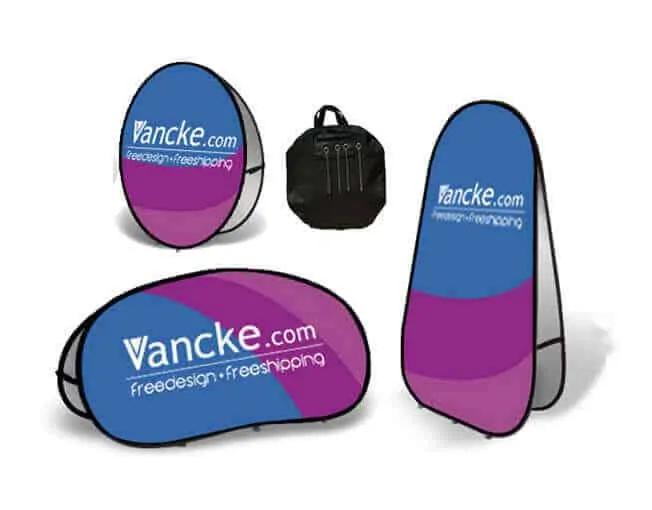 You are assured to get the value of your money if you use popup A-Frame banner stands. Due to their durability, they can last for a longer period. You could now relax in your foreseeable future and your investment gives you money, while you incur zero costs on it. These banners can be easily designed using any designs which you may think of. With the best that the digital printing services at Vancke Flag Banner can offer, your path to a successful business looks brighter already.
You may now be asking yourself how popup A-Frame banner stands are designed. Assuming you have shown interest in the banners, and you would like to bring in your cool design. The process is pretty much simple. Whenever you want to market your business, there are many things which may flood your mind. You may want to stand tall in your competition. You may also want to impress your clients with new trends. That is a good start.
Vanckle Flag Banner provides you with three steps to ensure that your product becomes the next big thing.

First, you need to determine the purpose of your design.
Try to create a mental picture of how the design will look in the end and also its future expectations. You wouldn't want to draw unicorns for an audience of 15 year old teenagers.
You also need to consider the explicit content of your design. This includes the obvious: the logo, the text, color balance, or images. It is important to use text fonts which appeal to your target audience, and also vector graphics (they are very resizable).
The printing process of your designs is the most fun part. Since the CYMK color is to be used. Be sure to convert all your design elements from RGB to CYMK. This will help in preventing the printing of colors you wouldn't prefer. As a word of advice, you should not expect your advertisement to be the next great thing if you are not creative.
Now that you have learned of popup A-Frame banner stands and their benefits. Don't assume that you can go to the world just like that. There are several places where you will definitely not score customers if you place your banners there. For example, you would wait for a million years for customers if you placed your popup A-Frame banner stands at a garbage yard.
Banners can be very useful in promoting any event. A unique design will guarantee recognition of your business. You can also use them to show your support during any event. Attractive text and graphics would immediately grant you success.
Due to their very light weight, popup A-Frame banner stands, are cost effective in most cases. Some designs are easy to carry. You may end up not needing a help. These banners are also an attraction. Every passer by will stop for a moment and take a quick glance at what you are selling (they will all be buying).
Some people may think that placing your advert on the newspaper, or int television would guarantee market success. The thing they forget is that those forms of media are expensive to maintain (you ad). A popup A-Frame banners allows you to reach your business goals while spending less.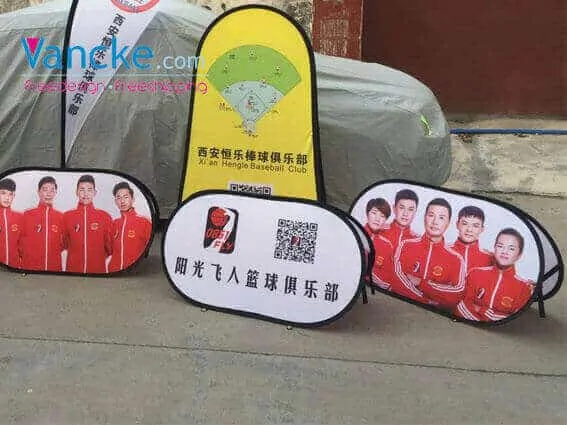 Vancke Flag Banner also provides services for getting you banner online. Custom popup A-Frame banners are designed using online customization tools. This process is cheap and fast. You are promised safe delivery of the popup A-Frame banner stands at your doorstep in no time.
https://vancke.com/wp-content/uploads/2017/05/a-frame-pop-up-banner19.jpg
425
567
Allen Liu
http://vancke.com/wp-content/uploads/2017/03/logo.png
Allen Liu
2017-11-14 12:38:50
2018-01-14 13:53:46
Three Steps to Promote Your Business and Events by A-frame Pop-up Banner