Outdoor advertising is one of the best ways any brand would effective reach out and introduce its product to the general public. However, if you made the wrong choice of outdoor advertising you would not only lose money but also lose the opportunity to reach out and promote your product.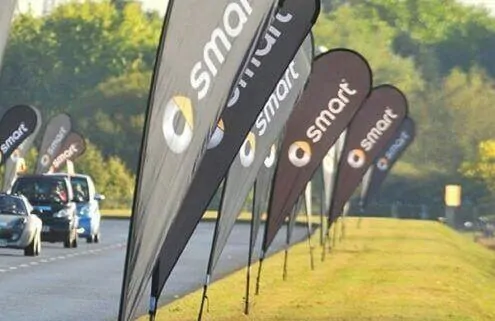 Outdoor advertising has gone through a lot of phases and has been simplified to simple flag banners. These banners are very convenient for advertising indoors and outdoors. A company's logo and marketing information are screens printed using vibrant colors on nice durable fabric. These can work well at trade shows, sponsored workshops, conferences, booths and can be used also to advertise just outside the location of your organization.
They are very effective because they are always placed in locations that have a lot of foot traffic like the example I gave before. The most popular of these flag banners are teardrop flags and their name is derived from their sizes and shapes.
Teardrop flags are made out of high quality durable knitted polyester using latest advanced print machines.
Formerly known as flying banners, the banner design style has earned it the teardrop banner name and is very popular due to the following reasons.
Its structural shape ensures that the fabric is always tight and secure. This reduces the way flags flap, which means less flapping means less fraying. With this design, an advertiser is assured that regardless of the wind gash the advertising information is still visible.
Secondly, the inverted design encourages your brand information to be printed higher up on the banner which also helps improve visibility. Therefore, if you really need good product exposure the teardrop banner will do that for you.
Features of the teardrop flag
Teardrop top pole
The teardrop is made out of Pultruded fiberglass which gives the banner high flexibility and is durable.
The tip has a protective molded ball which was placed in order to prevent wear.
The teardrop flag top section is always under constant tension which calls for durable manufacturing on this particular part.
Metal collars on the pole ends
The teardrop banner comes with stainless steel rings fixed at the top end
The collars, in the end, tend to prevent the poles from splitting
The collars also help increase the teardrop's lifespan
Quick connect system
This provides for a quick lock into the mounting system by simply pushing the ring down
The device is used to connect the flag to any mounting options available
Ratchet Tension system
In order for your teardrop banner to be used for a longer period of time, tensions must be set correctly.
The flags stretch needs to be adjusted at least once in a while in order to give it a better lifespan.
Easy to notice: Most traditional banners are always ignored and thus not noticeable. But this type of banner is always the first type of banner that a passerby will notice. These types of signs are the first thing that one would notice when they are pacing. This is because they have a very nice unique design.
Easily customizable: This type of banner comes in any type of size option available. This simply means that teardrops banners can be designed to fit any location that an advertiser would possibly want to place it in. They can also be customized with any marketing message and color which can fit perfectly which makes logos and other information more visible.
It is portable: The teardrop banner is known for its portability and a great option for any traveling company to promote itself in any place it goes to. These can either be trade shows, workshops, or any other event. Due to the compact nature, they are easy to set up; this makes it easy for anyone to use them.
Some retailers also offer a travel bag that fits all of your components which gives you good traveling capabilities.
Dependable advertising: Many business owners are realizing the benefits of utilizing the service of teardrop flags as a dependable way to advertise their products and services. Teardrop flags are perfect means of increasing awareness of a brand or to inform about an upcoming sale. This is due to the fact that there is a higher likelihood that teardrops can easily be noticed due to its exceptional design and stylish shapes.
Can withstand any weather: Teardrop flags are printed on very durable water resistant material. This kind of material is very good for using in outdoor.
It is not expensive to make: Compared to its durability and ease of use, the teardrop flag I quite friendly to the pocket. This gives one gives you great value for money as an advertiser.
Durability: These products can last for years because they are designed to withstand rain, sunshine, snow, and wind. Notwithstanding, these flags also need care because they also are susceptible to wear and tear. You need to always put them indoors in order to increase its lifespan.
Design and creativity: With this flag, one can be assured that their creativity can go wild. You can imprint your flag in any design that you feel you want to convey to your audience.
Environmentally friendly: since these flags have a long lifespan and can be used for a long time, there is no need for seeking frequent replacement which impacts the environment. These flags come with a onetime investment which provides a constant return on Investment.
All round advertisement: the flag offers 24 hours and 7-day advertising. Since they are charged with displaying vital information, and due to their durable material they can be displayed all the time.
Teardrops flags too many retailers are sold in four different sizes and are fully packed with great features such as the sectional pole. This pole has a circular mode of up to 360 degrees, which is great for displaying the flag at all available angles.
The teardrop flag can come in very many prints; it can either come in single faced print or can also come in double sided print.