Want a Thriving Business? Get Yourself Customized Teardrop Flags!
It is true that outdoor advertising is very effective to reach out to your customers. However, the effects are felt only if you use the right advertising medium as the wrong medium leads to a loss of money and lost opportunity to reach people.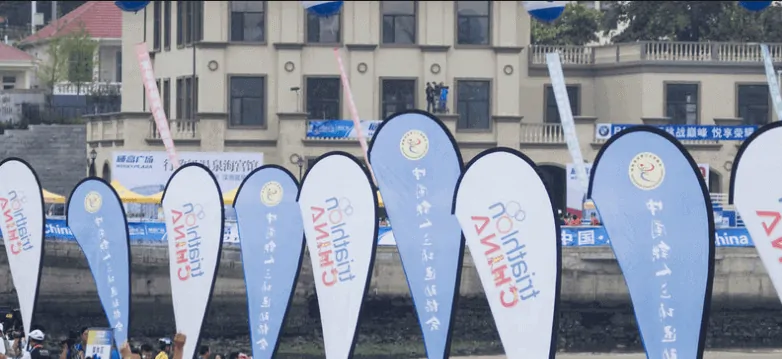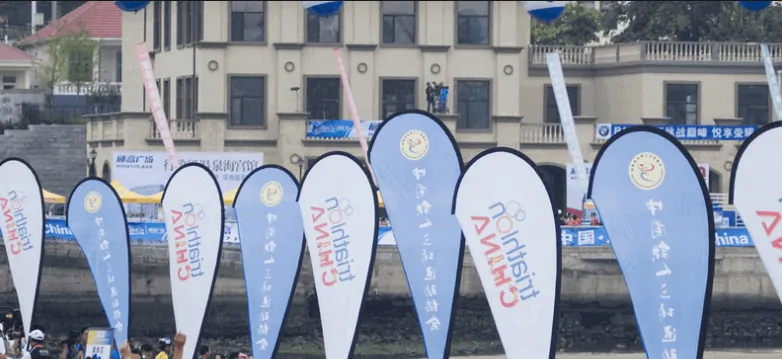 You have to choose something that's both economical to your budget and far-fetched for its reach. After going through so many advanced forms of outdoor advertisement like bright and attractive neon signs, many businesses have reverted to using simpler advertising options like teardrop flags for improved brand awareness and constant increase in their revenue.
What are teardrop flags?
Teardrop flags are made using high-quality and durable knitted polyester and were first known as flying banners. The flags are customized and printed using the latest advanced print machines.
They are built strong thanks to its shape that keeps the fabric tight and secure at all times. This, in turn, reduces the flapping of the flag which is good as there's minimal fraying where there's minimal flapping. Besides, it also means that no matter how strong the winds are, your flag will still be doing its work of getting your message across to prospective customers.
Customized teardrop flags offer the specialty of being inverted in design. This means you can plan and print the content on the flag so that the most important brand information is printed higher up in the banner. Important information is thus visible to most people, even people driving far away.
Features of a typical teardrop flag
Height and material
Teardrop flags come in various sizes, based on its stand's full height. Generally, the flags are about 50 centimeters shorter than the stand, which helps keep the flag off the ground. The flag poles are a combination of fiberglass on the top for added flexibility, while the base is an aluminum pole with an aluminum base section.
These parts can be dismantled to easily carry and set up the flag wherever you want. The flagpole also has strong plastic joints that make the pole even stronger while the strong plastic hook is used for adjusting the flag's height.
Single and double-sided flags
You can choose between single and double-sided teardrop flag banners. In case of single-sided flags, the flag is printed so that the print passes through the polyester and is visible on its backside. In other words, the print work on the front side is mirrored on the back side.
In case of double-sided flag banners, the artwork is printed on both sides of the flag. There is additional block out material in the middle that lets the right artwork or information be seen from both sides and is not reflected or mirrored.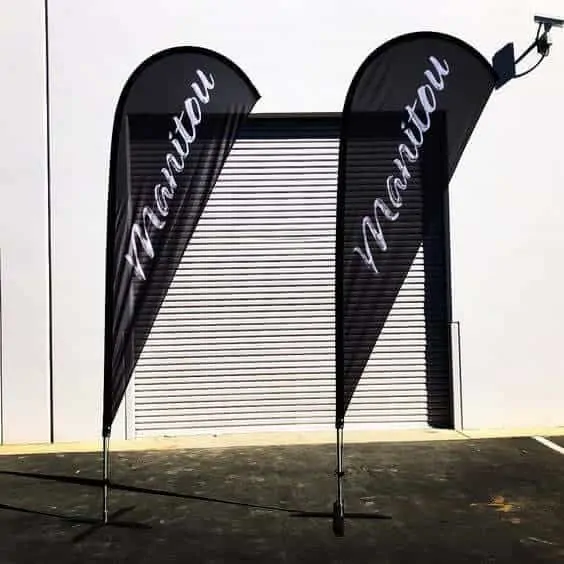 Cross base
The flag has a cross base that's ideal to set up the flag on hard surfaces like outdoor concrete paths or indoor cement stadiums. The base weighs a few kilos and is very stable in structure. If required, you can always give it some additional support by placing a water bag atop the base as additional weight. And of course, the base can also be used for setting up the flag on grass.
Ground spike
But sometimes a ground spike seems to be a more feasible option for setting up the flag in the outdoors like sports fields and nature strips. These ground spikes usually weigh about a kilo and are structured to swivel with the direction of the wind when outdoors. As it's a spike you just have to pierce the flag on the spot wherever you want to set up the customized teardrop flag, without any installation hassles or even someone else's help.
Car base
And if you want to carry your advertisement a step further and make it mobile, you could consider getting an additional car base with the flag. You can use the base to fit the flag to any type of vehicle as it's placed under a wheel. It's the swivel at the top that lets the teardrop banner to freely rotate with the wind to attract people's attention as you drive the car around town.
Carry bag
Customized teardrop flags come with a convenient carry bag that's strong enough to carry all these flag parts. In other words, you just have to dismantle the flag parts, stuff it into the bag and carry the flag to use another day in another venue. And to make things better, the bag easily fits into your car boot or back seat, making it all the easier to carry around.
Why you should use customized teardrop banners?
Many people tend to ignore traditional flags or banners because there's nothing special about them. However, teardrop flags are different because its fluttering nature, and unique design, catches the eye of practically any passerby.
Customizing teardrop flags is a cinch because they come in various sizes. You can thus design the banner so that it conveniently fits into any spot you want to place it. Not only the size, you can also customize the message and color to fit perfectly into the flag, and increase the visibility of your logo and other relevant information. They can be personalized to include your logo and relevant marketing information and their fluttering action attract customers' attention from near and far.
These flags are not only comparatively much cheaper than the other sophisticated forms of advertisement, they can also be used both indoors and outdoors as needed. It's versatility in usage, and lightweight structure means you can use the flags to advertise anywhere you want like in trade shows, weddings, conferences, booths and even just outside your organization or home.
You just have to choose a spot with maximum traffic and place the customized teardrop flag there to do its magic. And you don't even have to depend on anyone to help you set up the flag. You can easily do the assembling, and dismantle of the flags per your needs. And as most people provide a bag with the flag, it's even easier to carry the flag around.
Teardrop flags offer a reliable form of advertising as there's no worry about electricity problems or needing any tools to set it up in different venues. These flags help advertise your wares and services with minimal investment and last for a long time to come.
And once you set it up, it advertises your ware for as long as you keep it up. And instead of using multiple flags for advertising in different venues, the same flag can be used in multiple venues.
Of course, thanks to the flag's unique shape, design and flutter, it has a better chance of being noticed by others. Don't forget, these flags tend to rotate with the wind, which is, in turn, another means of grabbing passers-by attention.
Teardrop flags serve its purposes in windy, rainy and sunny weathers. All thanks to its water-resistant material which withstands rainy weather and its durability that prevents the flag from fraying in the wind. And as the flag rotates with the wind, it helps the teardrop banner withstand gushing winds.
Not only are these flags afford-ably priced, they are durable and can last a few months, giving more value for your money. And you can use the flag at both indoor and outdoor venues, for as many times and as long as you want.
The only fear you have is the colors fading, which occurs only after prolonged exposure to sunlight. However as the flag is durable, you can always prevent the colors from fading too quickly by taking it indoors when it's sunny and keep it for as short periods outdoors in the sun.
An opportunity to use your creativity
Customized teardrop flags give you an opportunity to unleash your creativity and potential while designing the flag. You are at liberty of imprinting the flag with any design you want to create on the flag to convey to your audience and spectators. There are also some sites that have tools and designers to help you design the flag if you have starting problems!
You could say that these flags are environmentally friendly as a single flag lasts a long time and can be used as many times as you want, in as many venues as required. So there's no need of frequently buying new flags, and throwing away the old flags every few months.
In other words, these flags are a one-time investment that will last you for a long time to come. The fact that the flags are washable increases the lifespan and looks of the flag as you can wash it whenever it gets dirty.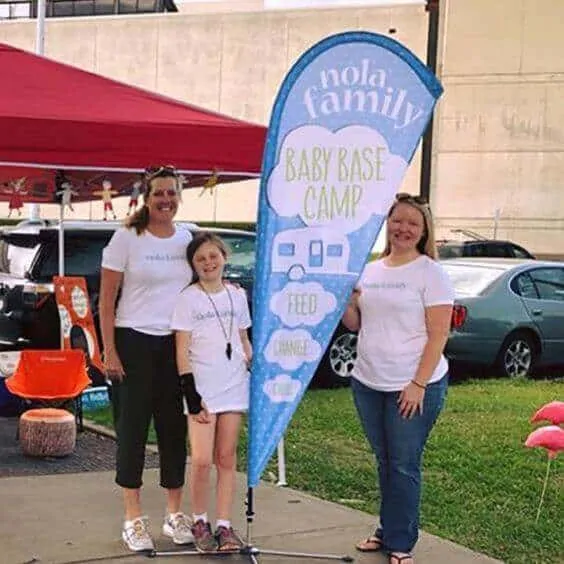 It goes without saying that the flag offers 24 hours advertisement for seven days a week. The only factor that may reduce this advertisement time span is you if you take the flag down. Otherwise, it can be used through the day and night and weeks and months for as long as you want to attract your audience's attention.
It's convenient to order customized teardrop flags because unlike other advertisement options like banners, there is no minimum order for these flags. You can buy one or a few of them, or go for bulk purchases and make use of their bulk discounts.
Last, but not least, you can place your orders for your customized teardrop flags from the comfort of your home as they are easily available online. You just have to choose the flag and the information and designs to print onto the flags and then place your order. The flag reaches your doorstep in a few days' time without your having to even get up from, or leave your seat.
How to make a statement with customized teardrop flags?
Make your statement
Now you know the benefits and reasons to use personalized teardrop flags, it's time to know how to use to make a statement for your brand and business. This is best achieved by first making a statement by coming up with a design and message for the flag which everyone will remember.
So you should not just advertise that you are open or your shop's name, but also tell customers what you have to offer them. Use few words, but the right words to convey the most important and relevant information about your business.
Choose the right flag and print
Once you know what you want to print onto the flag, you need to look around for teardrop flags made of the highest quality material. As there is so much of competition, you have to visit some of the known and trusted companies in flags and banners like vancke.com to be assured you have some of the best flags around. Their flags last for at least a year when compared to flags from other companies that last only a few months.
Make sure the content is printed using popping, big, bold and bright colors which is more attractive and have a better chance of grabbing passers-by attention. Don't worry if you are not so comfortable choosing the design for the teardrop flags. Most companies have their in-house designers ready to help bring your ideas out onto the flag.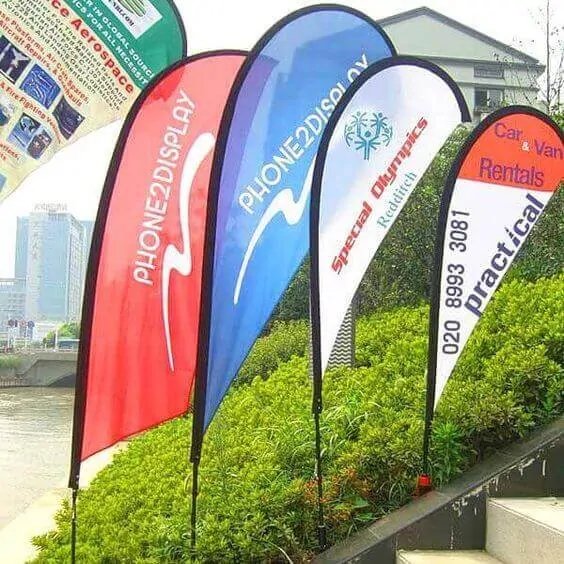 Perfect implementation
Now that you have the content, and have created the flag, it's now your job to use the flag to its maximum potential. It's only if you use the flag right will it help create your brand awareness.
And the best way to achieve this is by putting it up in the right place. As these are vertical flags, it's better to place them as high a spot as possible. It's human nature to look up at the sky while outdoors. So if you plan to use the flag outdoors, look for the largest customized teardrop flag possible to generate attention to your business.
Once you do things right by choosing the right flag, printing the right content and positioning the flag in the right place you will find a marked improvement in your brand awareness and the number of walk-in customers!