How event teardrop flags are better than most other advertising products
Advertising forms a sizeable part of any business expense list. It's only the right marketing that helps you get your message across, and let as many people know about your business as possible.While you know advertising is expensive, you naturally look for something which promotes your business well enough to capture the wandering eyes' attention, in a cost-effective manner. And there's nothing which can do this better than event teardrop flags.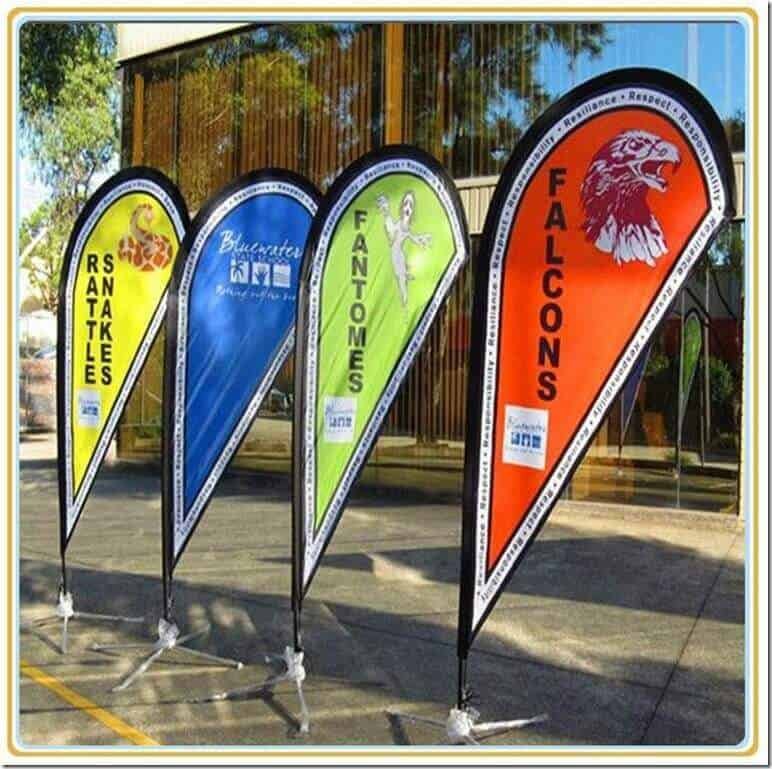 What are event teardrop flags?
Now if you wonder what these flags are, first and foremost, they are in no way connected to teardrops! It's just that they are banners shaped as teardrops and are commonly used along roads to advertise new businesses, events, and sales.
They are rather popular today because they are easy to set up as they just have to be stuck into the ground. However, the flags are durable enough to withstand the wind without fear of getting torn up. If compared with other available advertising options, you find that they are also better for advertising.
Event teardrop flags vs. billboards
Billboards are what comes to mind while opening businesses or promoting events. It's true that billboards are visible from afar, and can reach out to quite a few people. However, it's also rather expensive at the same time.
They, however, may not be worth it because it can attract the attention of only people traversing one or two roads and not everywhere.  Besides, you need to hire someone to put up billboards for you as it's not something you can do on your own, which are additional expenses. It's also sometimes necessary to ask for permission before putting up billboards.
Event teardrop flags are comparatively much more affordable, even to small business owners. And as each flag is rather cheaply available, you can afford to buy and use not just one flag, but multiple flags on all roads leading to your business.
These flags are easily assembled on your own. They can also be carried anywhere you want as the flags can be dismantled and put into a bag.
Most event teardrop flags are also equipped to fit onto cars and wheels to provide some mobile advertisement for your business. This offers a much bigger reach and form of advertisement because people across the city learn about your business as the car carrying the flag passes by them.
To top everything else, you can use these flags as many times as you want. They can be used not only to advertise about your new business but can also be used to advertise at any sports event or trade show you are involved with.
This is, in turn, another advantage over billboards. Unlike the portable event teardrop flags, billboards are meant to be used and advertise only in one place, and cannot be carried from one location to another.
Vinyl banners vs. teardrop flags
Another favorable advertising option is vinyl banners. They are relatively attractive in design as they are great for outdoor use and are usually printed with dark colors that slowly fade away. This makes them ideal for long-term and permanent use. They are also more portable than billboards because you can remove the banner from one spot and set it up somewhere else or for some other event.
However, vinyl banners have to be nailed to walls or may have grommets to use to hang the banners by tying them to posts, trees or anything suitable. You generally need to get permission before nailing banners to walls or tying them to posts and trees. Besides, though they are portable, they are not as easy to set up as event teardrop flags.
Teardrop flags, on the contrary, are easy to carry around. You just have to pull the ground spike out of the mud, carry it somewhere else, and mount it up. Teardrop flags also offer the additional benefit of fluttering in the wind at the slightest breeze, which is unlike vinyl banners, which may even tear with strong winds.
This fluttering of teardrop flags induces motion, which in turn attracts attention. And while vinyl banners can be mounted only with grommets or nails, feather flags are convenient enough to be used practically anywhere like indoors, outdoors, on patios, lawns or walls and even on sidewalks.
Teardrop flags are not only easily taken apart to carry around in the provided bags, they are also lightweight. They generally weigh only about 9 pounds, including its ground spike mount.
Sidewalk signs vs. event teardrop flags
Sidewalk signs are effective marketing tools which are perfect for use by businesses that rely on heavy foot traffic. These signs are not very tall and are visible only by passengers who walk by or pass by it in cars, but not from afar.
It's however useful for informing people about the opening of a new business, what's available in a store and about any special deals or promotions. They are also portable and can be carried anywhere, to set up as required.
However, they can get cumbersome to carry around because of its bulky size and weight. They cannot be dismantled and put into bags to carry around like event teardrop flags. Event teardrop flags are much lighter to carry and can be dismantled and put into a bag to conveniently carry around.
They are also taller than sidewalk signs, usually measuring more than 15 feet in height. So pedestrians and drivers can easily see them from afar, which unfortunately is not possible with sidewalk signs.
The teardrop flutter flags also take up minimal horizontal space about 2.5 to 3 feet, to easily fit just about anywhere you want. In fact, thanks to its unique teardrop shape, these flags naturally draw the attention of a crowd to your store, exhibit space or any other reason you use it. And as the banner is stretched taut against the frame to retain its shape, they don't produce any annoying flapping sound in windy conditions too.
Swooper flags vs. event teardrop flags
Swooper flags are quite popular for both indoor and outdoor marketing, making them an ideal addition to any event, busy convention, and even retail storefront. They are also commonly used in multiples to divert traffic at events, as a boundary or row for an event or even in open-hours and college fairs. It is the height of these swooper flags, and it's visibility from afar that makes these flags so popular.
However, these flags serve its purpose best only if it's windy. In fact, while these flags wave from top to bottom, they tend to collapse if there is no wind. And as indoor areas don't have any wind, these flags don't actually serve its purpose much in indoor stadiums and convention centers.
While only a collapsed flag's color is properly visible, anything printed on it isn't properly seen. This makes swooper flags ideal to use as a marketing tool for something colorful, without any text, name or contact information. So there's no point in actually investing in a flag that doesn't display your brand, or help with promotion all the time, both indoors and outdoors.
Event teardrop feather flags are however always open, no matter if it's windy or not. As mentioned earlier, they are pulled taut on a frame, making it perfect to advertise any contact information and other information.  These flags also tend to flutter if it's windy, which helps capture attention. They also display whatever's written in it both indoors and outdoors, no matter if it's windy or not.
Benefits of using event teardrop flags
Now that you know why it is better to invest in event teardrop flags to advertise about your business or event instead of other popular marketing options, it's time to take a look at other benefits and reasons to use these flags.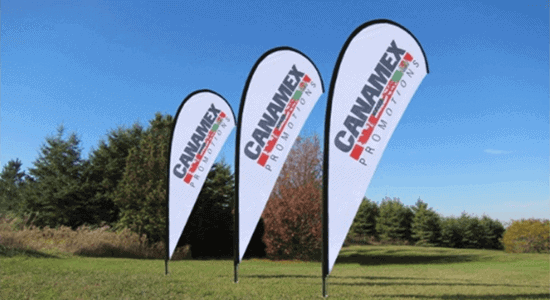 Large range of sizes to chose from
You have event teardrop flags to suit any budget and type of advertising you want. There are tiny, durable teardrop flags you can use on cars and even pay kids to carry around on their backpacks to advertise about your business. There are also huge, 12+ feet flags you can put up outside your shop, open-house, convention center or stall to let others know where you are, and all about you.
Versatility in securing flags
There are various ways to secure these teardrop flags as needed. The flags have spikes to jam into the dirt and ground, to conveniently set it up in an outdoor venue. And if there's no dirt outdoors, or you want to use it indoors, you have a metal cross base at the bottom of the pole that holds it in place. Sandbags are then placed on them as a weight to hold the flag securely in place.
Teardrop flags are also used as mobile signs when mounted on a backpack. You can have anyone walk around with one of these flags strapped onto their backpack. This effectively spreads the word about your sale, event, business or opening in no time at all.
Most flag printing companies provide a compact, traveling bag to carry all the parts of the dismantled teardrop flag. There's no worry about carrying the parts from one venue to another, or about leaving pieces behind. And to make things better, the bag comfortably fits into any car trunk or even back seat.
As mentioned earlier, there are so many places to use these flags. They can be used both indoors and outdoors in trade convention centers, trade shows, to advertise about open houses, sports events or even on cars and on a child's backpack.
They are ideal to use to attract a few curious glances for the weekend stall you set up in a mall. A huge flag with your logo, message or personal artwork will easily set your flag, and your business apart from your competitors.
These flags are made of nylon or polyester and are easily customized to any size befitting your needs. They can be cut to any size, colored any color, and have anything printed on them. You can use your imagination as a guide and choose your own designs and fonts for printing on the flag or have the company's design expert help you out.
Saves time while conveying messages
Some people even use tiny teardrop flags in corporate offices to get a new slogan or office points across by printing them on the flags and then placing them somewhere it's easily noticed. It's much better than sticking posters on walls that end up ignored or hanging signs on the wall with unnecessary holes that have to be filled up later on.
While the many modern display materials like LED signage, large screen TVs, and electronic roll-up banners are indeed effective at attracting attention, they run only on electricity. This means they are dependent on an electricity source and work out to be rather expensive. However, teardrop flags can attract about the same amount of attention without any electricity, at a much more affordable rate.
Last, but not least, event teardrop flags help you save money. Not only are they cheaper than billboards and mass mailings, they can be reused as many times as needed. So there's no need of printing new flags to use at different events, trade shows or functions.
Besides, the flags are designed and durable enough to stand up to wind, rain, hail, snow and most weathers. While you can leave them outdoors for as long as needed, you can prolong its life by placing them somewhere shady as the colors may fade with time with prolonged exposure to the sunlight. Most people and businesses can even afford to put up multiple flags on roads or events or even on a car as the flags are affordably priced s.
So now looking at the many reasons and benefits of using event teardrop flags to advertise about a new business, event or even to get messages across in offices, it's no wonder it's so popular these days. Besides, they prove to be much better than most other popular advertising media in one way or the other.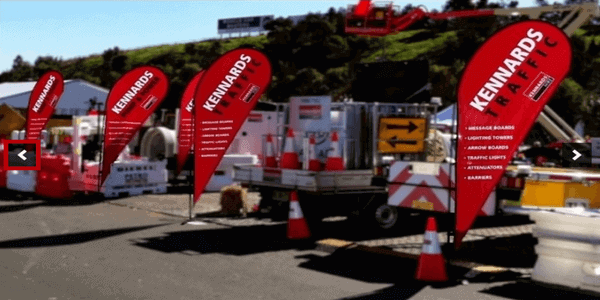 And to top it all, they are affordably priced, durable in structure and cost-effective, being the obvious choice to make if you are looking for the ideal advertising medium for your business or event. Placing orders is also a cinch because you can do it online, from the comfort of your home or office chair.
https://vancke.com/wp-content/uploads/2018/08/微信图片_20180913110309_副本.png
130
100
Allen Liu
http://vancke.com/wp-content/uploads/2017/03/logo.png
Allen Liu
2018-08-15 09:50:04
2019-02-21 03:20:13
How event teardrop flags are better than most other advertising products