Feather flags – A cost-effective form of advertising of restaurants
Increasing visibility is the prime factor that helps increase the number of patrons to your restaurant. You naturally employ as many effective steps as possible into your advertising campaign. One of the many cost-effective options you have available today is feather flags.
If you wonder why, it's because feather flags can be used as many times as you want, at as many places as required. This means that you don't just use them to advertise about the special weekend breakfast and other meals you serve at the restaurant, outside it.
You can also use it to exhibit your store at a trade show, exhibition or even at sports events. The reason for this is because these flags can be used both indoors and outdoors.
It comes with various types of bases for you to choose and use as required. If it's an indoor venue like an exhibition or tradeshow stall, then you have a flag with a cross base which can be weighted down with a water or sandbag to prevent it from moving. In case of an outdoor venue, you can use a ground spike to poke into the ground for support.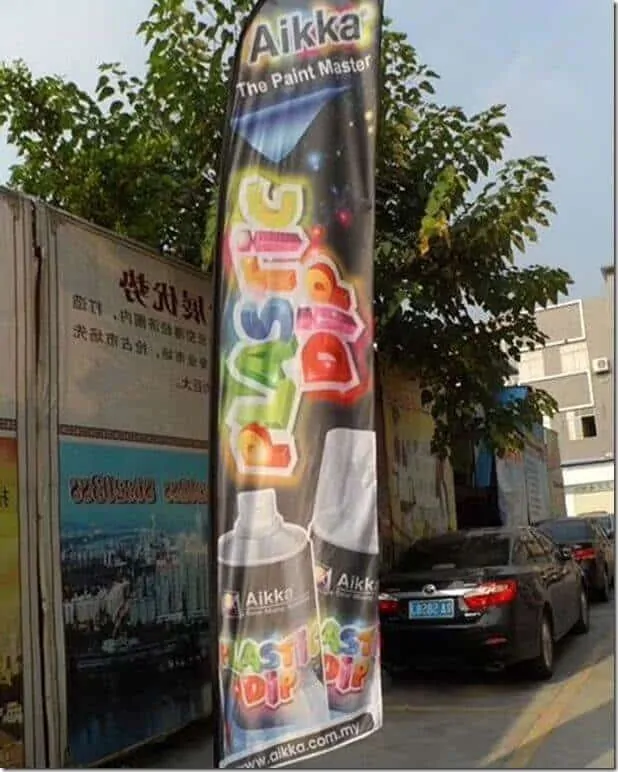 Besides, these flags are easily set up and dismantled. You can do it alone, without another person's assistance. You just have to connect its parts. It's usually two fiberglass poles in case of a small feather flag kitset or three poles in case of a large kitset.
The poles have to be pushed into the sleeves, to its very end. Most flag providers like vancke.com also have a thick padding to protect the end of the flag. You next have to pull the sleeve all the way to the base of the pole, and tie the thread to the hooker found at the pole base.
Adjust the thread lock with one hand, while holding the sleeve with the other. You may need some assistance in holding the sleeve if it's the first time you are setting up the flag. But you will be able to do it alone with some experience.
You can also do the dismantling alone, and once you are done, store the flag in its carrier bag that accompanies it. This bag can be used to both store the flag when not in use, and to carry it from one venue to another.
Tips for making your feather banner life longer
Storing the flag in the carrier bag is most important for prolonging the life of your feather flag. There are a few other tips you can use to make your flag last longer. This includes properly installing your feather flag, using the tips mentioned above.
· It also helps if you take down the flag, and keep it indoors if it's very stormy, windy or rainy outdoors. While it is safe to keep the flags outdoors, extreme weather conditions may take its toll on the flag.
· The colors last longer if you set up the flag in a spot that's out of direct sunlight. The more sunlight that falls on the colors, the quicker it fades.
· Last, but not least, it helps if there is nothing around the banner in the advertising area. Sometimes sharp objects and other similar objects may accidentally do some damage to the feather flag, which could have been avoided.
Tips for selecting the right feather flag for your restaurant
It's not always easy selecting the right flag for your restaurant. There's so much that goes into selecting ones like the right colors, size, and type. Read on to find out more about the points to consider.
1. Single sided or double sided print
There are two types of feather flags available; they are single sided and double sided printed flags. As the name suggests, the single-sided flags have graphics or images printed on only one side of the flag.
Though this may seem to be a cheaper and more viable option, there is a drawback here. The image on the back part of the flag is usually viewed in reverse.
This means that someone who reads the backside of the flag will get confused, and won't be able to understand what you are trying to convey through the flag.
In case of a double-sided flag, two feather banners are printed with the required content on each of them and sewn together. There is an additional blackout material placed in between the two to ensure nothing is seen through them.
This way the images and content on the flags can be seen the right way on both sides. It's left to you to decide if you want to print the same things on both sides, or perhaps you're contact details and timings on one side, and some pictures or names of meals you serve on the other side.
The double printing costs make these flags a slightly more expensive and heavier option. However considering the improved clarity it offers, it's actually worth paying more for them.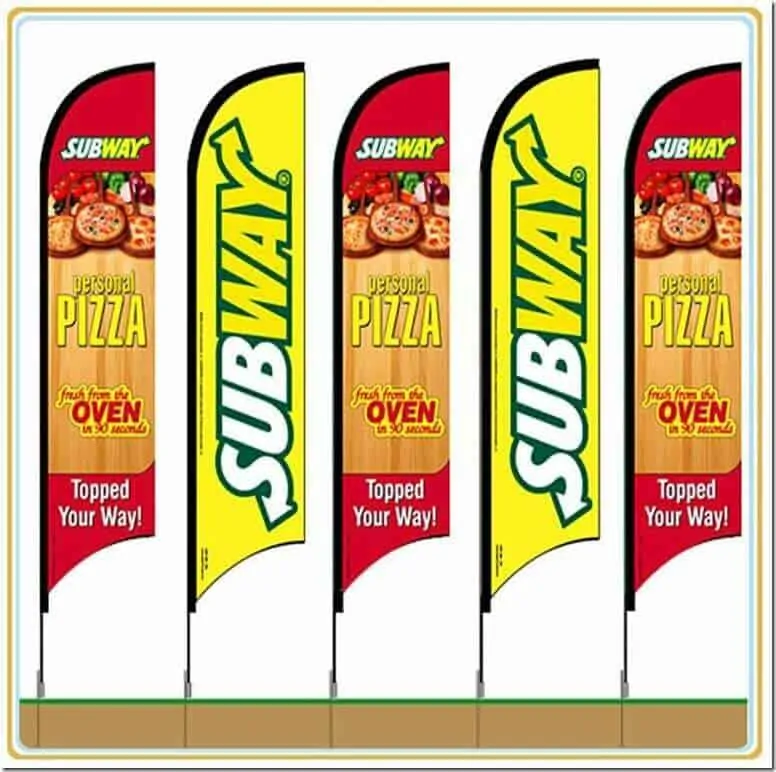 2. Size
Next in line is the size of the feather flag. You have to make your choice based on where you plan to use it. Smaller flags have a better impact when placed at the entrance of your restaurant, to welcome people into your establishment. You can alternatively use them to advertise about the day's special meal or any other special offers you have.
Taller flags are better used at promotional events like a food fest. The venue will be large, and taller flags are better seen by people all around the grounds or venue.
Just remember to keep the exhibition hall's height in mind while choosing, so that the flag fits in properly. You can also use shorter banners here as directional flags too. Place them at the entrance of the fest so that people know about your stall, and are directed to it.
Feather flags are a onetime investment that will easily last a few years if taken care of properly. The images and content on the flag are anyway digitally printed, which guarantees that the print and colors are bold and rich, and easily visible from afar.
It also means the print doesn't fade easily and will last longer. It's better to make maximum use of these banners, to advertise about your restaurant without any additional costs.
Unlike paper and television ads where you have to pay for additional advertisements on other days and channels, feather flags once bought can be used as many times as you like, in any of the following manners:
1. Promoting sales and offers
You can use the flags to inform passers-by about the day's special or about any weekend or public day offers you have at the restaurant. It's only if you get as many people to know about your special meals can you expect them to come down for a meal!
You could perhaps have a couple of flags printed with pictures and information about your special dishes and offers. You can then rotate and use them as and when you plan to have them each day.
2. Improve your brand image by sponsoring events
You can use your feather flags to boost business and build a positive brand image by sponsoring some community events, sports leagues or charities. A higher level of community engagement from your side not only increases the chances of customers patronizing your restaurant, but it also gives small establishments a means of competing against their bigger competitors.
So don't forget to put up your banner at the local sports league met where you made a big donation. People like businesses which are actively involved in community events and will look forward to doing business with you.
3. Announce about special events
If you plan to organize a pizza eating completion or a food fest, feather flags are a great way to publicize and promote the event. In fact, if you organize one every year, it's worth printing a banner solely for it, and then hang it up around town every year when it's coming nearby.
As you plan to use the same flag every year, it's important that you don't mention any dates on it. You can instead print words like 'The second Sunday of the month' and plan the competition and marketing accordingly.
4. Generate attention
This is probably the main reason you'd bought the feather flag in the first place- to generate attention to your restaurant when you first opened it. The best way to garner maximum attention to the flags, and expect more people to patronize your restaurant is by using vibrant colors and interesting graphics that can attract any person's attention.
With so many other establishments also putting up their own flags and signs, you have to make your look special so that even casual passers-by know about you, and grow inquisitive to find out more about your food.
It's worth spending some money on professional photographers to click photos of your dishes so that you can use them on your banners. These photographers know the right angle to click photos that highlight the beauty of your food so much that anyone who sees it feels hungry immediately, and want to taste it.
5. In trade shows
As mentioned earlier, feather flags are really useful at trade shows. You can use them to not only mark your stall, but also use short flags as directional flags, showing people who enter the venue about your stall, and the way to it.
How to get maximum results from your feather flags
Now that you know how to choose your flag, and the many ways you can make use of your one-time investment, here are some tips to help maximize the benefits and the number of people you attract through them.
· Choose and use the right colors.
It's better to have contrasting colors when it comes to background, images, and print. You want people to be able to read whatever you have printed on it, which is possible only if the print is in contrasting colors.
Avoid using the surrounding colors as the background color. This means that if it's a tall flag, a sky blue background wouldn't be a good idea because it blends into the surroundings.
Similarly, short flags won't be seen prominently if they have a green background, and your flag is placed in front of it. In other words, keep your locality and colors in mind while designing your feather flags.
· Don't crowd the flag.
If you have lots to tell your potential customers, it is better to divide and print whatever you want to convey in 4-5 flags. This is much easier for passers-by to see and read.
Crowding everything into a single flag won't serve its purpose much because onlookers won't understand what is written on it. It's better printing about your special dish on one banner, your weekend breakfast offer on another and perhaps your weekly dinner discount on a third banner.
This way passers-by know exactly what they want to know about your offers and will plan to pay you a visit one day accordingly.
· Never too much of advertisement.
There is no rule stipulating that you can put up your feather flags only when you are at a tradeshow, have special offers or are sponsoring an event. You can always have a flag placed in front of your restaurant because recurring views always means recurring value.
With so many people passing by your restaurant, there is always someone out there who will want to try out your meals just by looking at your flags. If you worry about people slowly ignoring your flag after seeing it every day, then you could switch the display a few times a year to look new and updated.
Conclusion
So you see. If you are looking for a cost-effective and effective marketing option for your restaurant, a feather flag may be just what you need. It's economically priced, versatile in function and easily ordered online from stores like vancke.com.
https://vancke.com/wp-content/uploads/2019/06/Feather-flags-A-cost-effective-form-of-advertising-of-restaurants-3.jpg
772
776
Allen Liu
http://vancke.com/wp-content/uploads/2017/03/logo.png
Allen Liu
2019-05-24 03:08:00
2019-10-23 14:43:06
Feather flags – A cost-effective form of advertising of restaurants