It's not enough to have a tradeshow stall. You may spend days sitting with only a trickle of visitors if you don't have the proper advertisement. It's only if you properly market about your stall will people know about it.  One of the best ways to achieve this at a tradeshow is through tradeshow flags.
It's the ideal way to garner some attention to your products or services. You can use as many teardrop banners as you require letting visitors know about you. While a few around your stall are mandatory, you can also place a few at the entrance and around the tradeshow.
The flags will entice visitors and give them a reason to pay a visit to your stall or at least make inquiries about it. Make sure you don't just advertise your ware but also mention your stall number.
It's also important that you buy and use the right sized lush banners. Too short flags are not of much use because they won't be visible from afar. You need to attract as many people at the tradeshow as possible. A tall banner helps you here.
The good thing about using teardrop banners at tradeshows, especially if you will be traveling with the show, is that it's lightweight, portable and easily put up and dismantled.
No color bleeding
You don't need to wait for another person to do it for you. Besides, though tall, they don't use up much floor space. So you need not worry about using up much valuable tradeshow floor space.
Despite being lightweight and compact enough to carry around in its accompanying carry case, its large enough to display as many graphics, logos, and other images as you want.  Teardrop banners come with an added benefit of letting you choose if you want to print your matter on one side or both sides of the flag.
You don't have to worry about any 'bleeding' of colors in case of double-sided flags because there it comprises of two flags which are sewn together. They have middle 100% blackout material that ensures the graphics on both sides are visible. Besides, the presence of two flags and the blackout material make this a heavier flag which doesn't fly.
However, in the case of single-sided tradeshow banners, there are 70-95% chances of bleeding on the reverse side, like any standard flag. However, these flags are rather popular for both indoor and outdoor use. The image on the reverse side is however seen in the reverse.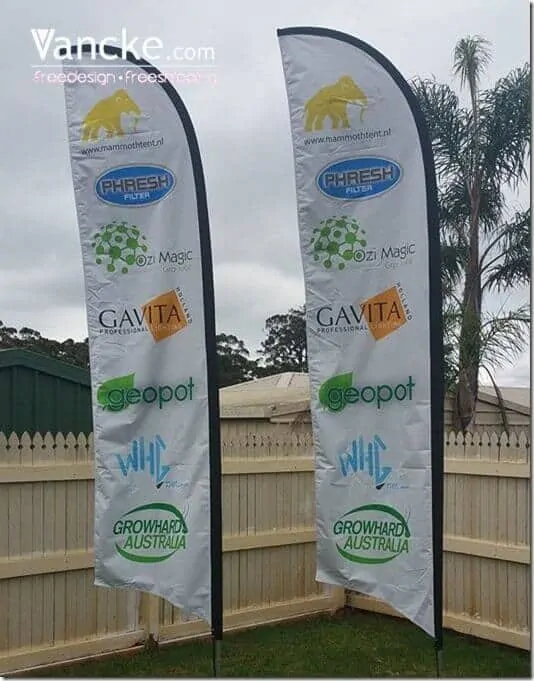 Teardrop flags can be used both indoors and outdoors
Another reason to buy lush banners for tradeshow displays is that it can be used at both outdoor and indoor venues. The flags come with three types of bases for you to choose and use as per the venue.
The spiked base is ideal for outdoor tradeshows where you just have to poke the flag into the soft ground. The ground spikes from companies like vancke.com are heavy, usually weighing about a kilogram. This gives healthy and strong support to your banner.
The spike also has a swivel as a part of the flag, which lets your teardrop banner turn with the wind. This ensures the flag flutters to attract more attention, and at the same time prevents the flag from potentially getting torn from the winds.
Teardrop flags come with a cross base for use on indoor, hard surfaces like concrete or footpaths. The base is usually 3-4 kilos heavy, offering additional stability to the flag.
You can always use the weight of water or sandbag if you need additional support for your tradeshow flag. This is usually required if you have a tall flag for maximum visibility at a tradeshow.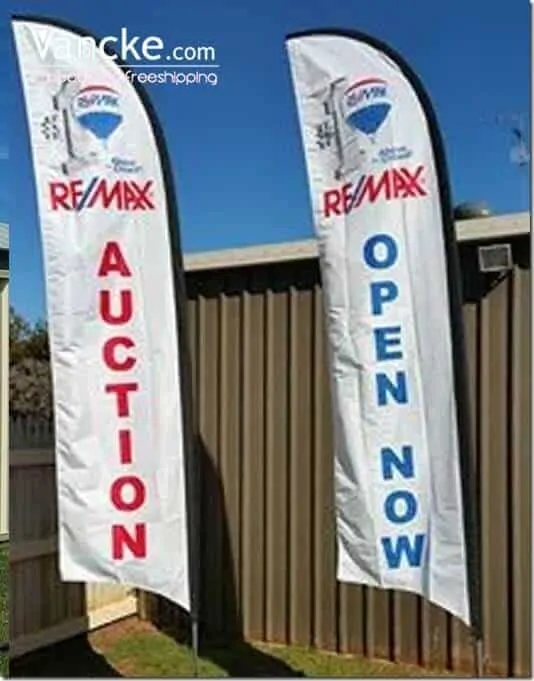 Tradeshow banners printed using the best materials and process
All tradeshow flags printed by companies like vancke.com are printed using the highest quality print process and materials. This is not only to ensure the best and brightest flag with the sharpest images, but also to keep them bright for as long as possible.
You anyway will be able to use these banners for at least a year or two with the proper care. Bright colors, high-quality printing procedures and materials give you long-lasting flags.
You anyway get to decide what you want to print on the flags. You are at liberty of printing whatever fonts and graphics you desire. Most companies also have an in-house graphic designer to help you come up with the right design and content.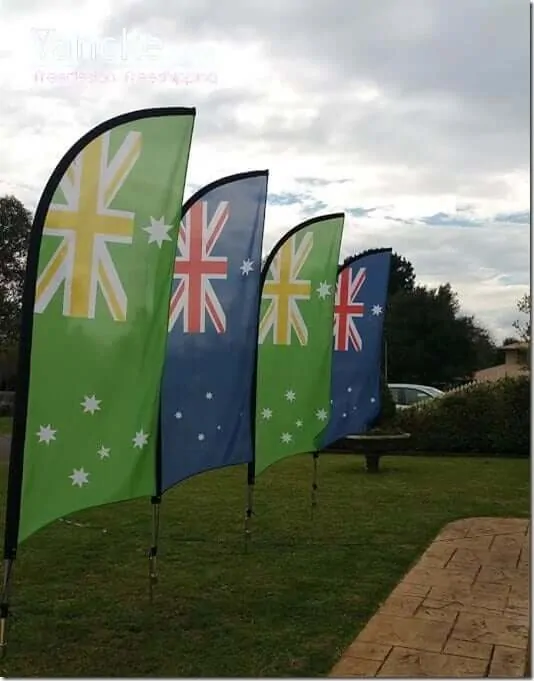 6 tips to create appealing tradeshow banners
Remember, that while feather flags are great for marketing purposes, they are only a canvas. What you put onto it defines how attractive and effective it is at attracting other people's attention. So if your graphics are boring, then you can't it to attract much attention.
The following six tips will help create a longer-lasting and attractive tradeshow feather flag. The tips will help bring in more customers to your tradeshow stall because of the appealing and exciting graphics and font you use in it.
1. Text messages should be both clear and simple
Did you always notice that the 'Stop' and 'Caution' signs while driving down the road? Most probably yes, because of the bold text used on the signs. You naturally stop when you see the stop sign and drive carefully with the caution sign in place. The signs wouldn't have been of much use if they were filled with too many word or graphics.
Similarly, it's better to have simple and clear messages printed on your tradeshow banners. You just have to tell potential visitors how you are using the simplest and boldest words possible. If you are selling cakes, your sign should ideally have the words ' Delicious Cakes' and if you are selling bicycles, 'Speedy bikes'.
2. Splash a few colors
Now that you have come up with the right words for your sign, you next have to decide on the color. The simplest design is printing the text in white, and having a black or other dark color background. However, you can make the banner look more attractive just by adding a little more color.
You could add a thick, diagonal line in your text color at the end of the flag or add a golden or silver swirl. It's generally better to use the same colors or shapes used in your business or at the tradeshow.
Most of the time only the text on the flag can work wonders at attracting attention. However, sometimes all it takes is an additional border or a few swirls of the paintbrush to add some authenticity and flair to the teardrop banner.
3. The message should stand out
You have most of your tradeshow display-ready with the right font, background and a few simple shapes or lines here and there. Even after using 2-3 colors in the flag, you may need to do something else to ensure the message stands out when compared to other banners at the tradeshow.
The best way to make your banner stand out is by designing its background and text so that it matches your business or even your tradeshow.  So if you are selling cakes, you could have the words textured to look like bread crumbs.
You could use a background with a bright pink look like a strawberry cake and have a candle inserted someplace instead of swirls or lines. This makes it obvious that you sell cakes, and also proves that you know your trade, and are reliable.
Similarly, if you sell bicycles, you could perhaps design your teardrop banner to look like a bicycle track or have a bicycle printed on it. You can make the cycle look like real-life objects by adding texture. This helps get your message across and stand out from the other tradeshow flags.
4. Logos stand out best with some color
Just like adding color to your feather flag helps it stand out, adding color to your logo gives better effects too. Now that you are selling bicycles, you naturally want the logos of the different cycle brands you have on sale.
There however is a problem here. The logos can look a bit boring; you can add some life to it by filling up the space surrounding the logos with some designs. Once again, nothing complex; just simple designs because simple is always the best.
For best effects, make sure the logos are placed intermittently, in different locations on the tradeshow banner. The best ideas for simple designs to add to the banner are colors and shapes representing either the season or holidays when the tradeshow is held. For example, if it's during fall, you could have a few colorful leaf shapes sprinkled around, to fill up the blank areas.
Or in case of your cake store, you could perhaps advertise about eh different type or shapes of cakes you can make. You could perhaps have a few images of different types of cakes and shapes.
5. The right picture does all the talking
Sometimes adding a few swirls, making logos look colorful, using different textures and simple text just don't seem to create any magic. Sometimes it's not just shapes and simple designs, but a picture that does all the talking.
So instead of using shapes or designs to advertise about your cake shop, you could have a picture of one of your best cakes printed on it. this will not only make it more evident that you are selling cakes, but the cake picture itself will make potential customs walk in to find out more about your business.
Cakes have always been appealing in nature and with your best cake printed on it, don't be surprised if there's a huge footfall of visitors. They will either want their cake to look like the one on the picture or have some other unique cake design in mind.
So you see this single picture can do what everything else couldn't achieve in your tradeshow flag. With you working on restricted space on the banner, it's worth including an attractive picture on your banner.
6. Give your customers their dreams
The very picture that's worth more than a thousand dreams can help sell your customer their dream. For instance, if you sell bicycles, you would want your tradeshow flags to tell everyone walking by your stall that you have their dream bicycle.
Anyone could print the right words on the flag like 'Speed bicycles' in nice bold letters. You could also add some simple, but effective graphics and designs to the banner. You also know which colors to add, and the different logos to print on the tradeshow banner.
However, your flag still misses the 'special touch'. You need to add something to it that makes every person's head swoon upon looking at your tradeshow banner. You could perhaps pick the picture of a bicycle and crop its background so that it becomes your banner's base.
The reason you should place this at such a point on the tradeshow flag is that it will make anyone who passes by seeing their dream bicycle in the flag. This makes them want to buy a bicycle or at least make some inquiries about it.
So you see, the secret lies in looking at a few magazines with pictures of bicycles and then pick the images or photos you think will instigate customers to enter, and buy or at least ask about your bicycle.
Just make sure that you can legally use the photo. The last thing you want to happen while designing the perfect tradeshow banner is breaking someone else's copyright through your chosen photos.
So you see. It's not enough to get a berth in a tradeshow. You should also work at generating enough interest in passers-by to visit your stall and at least make inquiries if not a purchase. This is where tradeshow flags prove to be very useful.
They are affordably priced, can be used for years together . Also they are lightweight and portable enough to use as many times as possible . However, just remember that tradeshow flags get people to your stall only if you are sure they look great and interesting enough to them.