The coronavirus pandemic has captured the world by storm. The lockdown, economic downturn, and the fear of going out do make you wonder if you can ever run your business like before.
Your fear is justified because the world is now going through a phase never seen or heard of before. However, it does not mean that you have to close down your business. You need to look at the bright side of things too.
Things are improving in many places, with people many people recovering from the dreadful disease.
While it may take time, things will improve in your city and company. So it is better in the meantime to come up with and adopt a few interesting and useful marketing techniques with feather flags.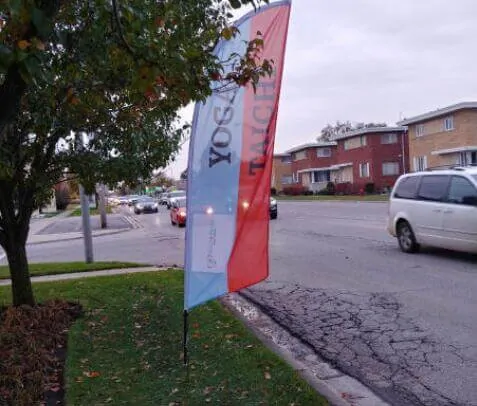 Choose and customize feather flags
Yes, many businesses have shut their doors to prevent spreading Covid-19. However, many have to remain open to provide essential services. No matter what your business is or why you need to keep your store public, you must keep your customers', visitors' and staff's safety in mind too.
You can do your bit by setting up feather flags to convey vital information to the public about staying safe during this crucial period.
Educate customers through feather flags
You can set up different types of signs conveying different vital information for your staff and passers-by. You can also use feather flags to ensure your visitors navigate your store without any compromise on their health.
You could also print a few social distancing signs. Create banenrs with images clearly depicting how far away each person has to stand apart from the other.
You can also have some hand washing signs printed. The signs will show that it is essential to wash your hands as frequently as possible throughout the day. Do not forget to also print your company name or logo on it to show that you care for the public.
It puts your business in good light during this crucial time. Most banner flag companies like vancke.com have a range of suitable images for you to select and use for these types of flags too.
If you have a takeout or delivery business, print some feather flags to let people know about your services. People will be on the lookout for delivery outlets in this coronavirus pandemic so that they can just call you and have their order delivered home.
These banner flags should advertise about your takeout or delivery business on one side and contact details on the other side. They can also be used to indicate where visitors can collect or drop off their products.
Similarly, if your store is open for only a few hours, you could have a few feather flags printed with the words 'Temporary hours, please wait in car'. This way, the consumer will know that you will be attending to them and won't crowd up at your business entrance.
Best places to put up your Covid-19 feather flags
You will be setting up the banners within and outside your corporate and commercial premises. In addition to this, you can do your bit for society by putting up other coronavirus flags in front of other public properties.
For example, you could set it up in schools, universities, press conference halls, public libraries, convention halls or centers, and other locations. Banner flags are anyway affordably priced, especially if ordered in bulk. Most companies, including vancke.com, will even ship it to your address in the quickest way possible.
In short, place the signs somewhere where it's most visible to customers and passers-by. So in case of your establishment, it should be near the entrance, preferably on the main front door.
However, as feather flags are light, and if you live somewhere windy, it may be better to place a sandbag on it for added security. It prevents the banner from toppling over even when it's windy.
You can alternatively if there is space and it is permitted, place the flag inside a glass window or door, with it facing outwards. It keeps the sign safe, and it is at the same time easily seen by people outdoors.
How do I create custom coronavirus signs?
You create personalized banners just like you would create other banners. Just visit sites like vancke.com and look for their page that is tailored specifically for Covid-19 signs.
You can then either use your ideas or images to create the right design for the flag. Or you can alternatively use the help of the many templates available to print a long-lasting and durable sign.
If you have ideas and images, but do not know how to implement them in the flag, then do not worry. Banner printing companies have their in-house group of designers to help you create the best covid feather flags for your business.
Right time to print your business feather flags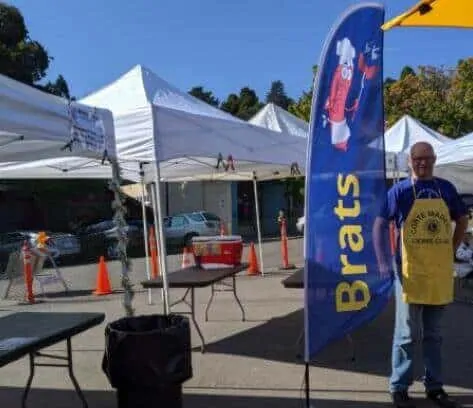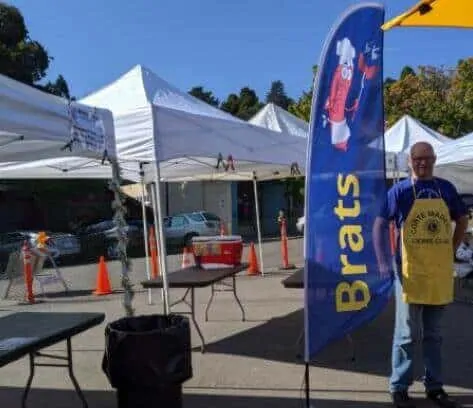 The free time you have during the coronavirus pandemic can now give you a reason to take care of things that you never found the time to do. This is why it is the best time to customize your feather flags if you have never had the time to do so.
It is time to come up with the right feather flags to market about your business. You can select between single and double-sided banners, each with its benefits.
The single-sided flags are a cheaper option but can be printed only on one side. They are a better option if you do not have much to write on the banner. It will be better to go for a double-sided banner if you have more to print.
For example, you can print your message on one side and your contact details on the other side. These double-sided flags come with a black intermediately layer that prevents the colors from each side leaching into one another.
So there is no worry about the colors or content from one side leaching into the other side. Of course, double-sided banner flags are more expensive than the single-sided ones.
The feather flags are worth the investment
The coronavirus pandemic is not short-lived. While people may recover, and the world will slowly return to normal, people will still have to continue their social distancing precisely. And also keep their hands clean till the complete eradication of the virus through the world.
So you need not worry that your investment in covid-19 flags will be a waste. With feather flags being long-lasting, you can use the same banners you print now for at least a few years.
As long as you set them up in places with minimal sunlight, the colors don't quickly fade. And as long as you safely dismantle, assemble and store the flag in its carrying bag when not in use, the banners will serve you for a long time to come. So, in short, it is a onetime advertisement investment, unlike other promotional options you have.
You by now know how to customize coronavirus feather flags, and know where to place them. So here are some additional useful marketing techniques worth implementing and using for the improvement of your business.
Make maximum use of your storefront
Your storefront has always been the forefront for all your marketing endeavors. With citrus fruits helping build your immunity, you could perhaps set up a lemonade stand in front of your business.
Remember, a healthy body immunity can go a long way in helping everyone in this fight against the coronavirus.
You could use a feather flag to announce to passers-by to get their daily dose of vitamin C at your lemonade stand. Now use this point of interaction to hand out samples and other small pamphlets of your store specialties to passers-by.
However, do not forget to maintain the social distancing protocol while doing this. Set up two tables horizontally and side by side, and maintain a 6-foot personal space boundary between your employees and the public.
Use disposable glasses, keep a disposable bag handy for waste, and ask your employees to wear gloves and mask for safety reasons.
Do some social work for the community
With so many volunteers working to help the public through the pandemic, you could do something helpful to them. If you have a cafe or restaurant, you could perhaps cook free meals for them for a few days. Or if you sell something useful to them, offer them some free items.
You will, however, have to let them know about your intentions. This is where you can use a feather flag to tell passers-by all about your initiative. Print the date and time on the banner.
And with most people on the internet these days, do not forget to post the same details on Facebook and other social channels to get the message across.
Offer free delivery
With most people confided indoors as a preventive and safety measure, you could offer free delivery for your items. This is a service the elderly, handicapped, and families with kids will appreciate.
In the case of others, you can perhaps offer a bonus to give them a reason to have their essentials delivered by you instead of someone else. For example, if you sell books, send your orders across with an excellent coffee. Consumers will thus enjoy the book better, and remember your kind gesture for a long time to come.
Create a video system
If you run a service business like yoga, fitness classes, or health-related consultancy, make use of the internet to promote your business. You can create a video system to let your customers watch and learn from you.
You can then promote your video system online through social media. You can also use feather flags to highlight these classes to any people who come to visit your building. You could perhaps print pictures of the services offered, with the timings for them to wait for.
Offer referral coupons
Suppose you have a few loyal customers now during the downturn. You can use their reference to get more customers interested in your business or service. You can offer them
coupons in exchange for customers they refer to you during the downturn.Start your email incentive referral program
You can also use the help of emails to help your business flourish despite the coronavirus pandemic. For example, start an email incentives referral program where you email your existing customers.
Give them something free like coupons or some items or something of value if they can refer someone via email to your business. Not only do you get more customers this way, but your email list and social channels also grow.
Try to maximize the use of the internet
It has been suggested worldwide by doctors and experts to stay indoors. So you should shift to an online presence now if you haven't done so yet. You could create a website or a blog, as deemed appropriate for your business.
For example, if you are selling something, a website is more important to display your ware. However, if you are teaching something, then starting a blog would be a better idea. You could print your website or blog details on a feather flag and display it somewhere outside for any passer-by to see.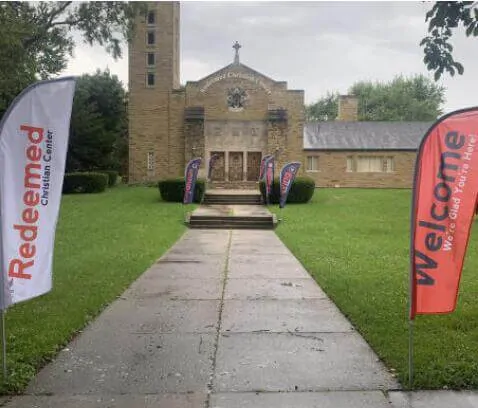 So you see? Yes, the coronavirus is devastating. It has created havoc and built fear across the world. However, this is not the time to retreat in fear. It is the time to fight the diseases by adopting all the safety measures advised.
Stay indoors, minimize physical contact with anyone, and stay hygienic. This is vital for you to stay safe and alive.
And it is also time to start a customized marketing plan for your business to survive and start flourishing.
It mainly comprises of using coronavirus and other feather flags, and knowing where to use them in your establishment. You will slowly see your business return to normal as the world returns to normal.