Did you know that teardrop flags are great for promoting sports events?
All types of sports bring an adrenaline rush to not only the sportspeople and participants but also to the spectators. There is anticipation and excitement as the competition closes in. The excitement grows day by day and reaches the hilt on the day, and at the venue.
If you wonder what this has to be with teardrop flags, well, all this happens only if the promoter manages to create sufficient hype about the program. The right and effective promotion helps build the crowd's excitement, and in the process, increases the sale of tickets.
This way, the team owners are happy about their healthy return on investment. The players are also comfortable playing and get paid for the game, and spectators have a contest to enjoy.
So everything boils down to effective advertising. It's only the right advertisement and techniques like teardrop flags that help create a considerable hype for a match. Here are some tips worth knowing about effectively marketing for a sports event using items like teardrop flags.
1. Create enough hype
No matter if it's a baseball or football match, a golf tournament or an inter-varsity sports meet. The secret to the success of the event lies in using the right advertisement methods to get the word around. You should be able to create enough hype to make people eager and look forward to the event.
You can't expect your venue to fill out if people don't know about your event. It's true that the internet offers a myriad of marketing options to promote events. However, most of your audience will be from the immediate area around the venue.
You have to work at spreading the word, which you can do through targeted display and direct marketing campaigns. You can do this with the help of tall, attractive teardrop flags.
They can attract the attention of people near and far. You can set up your flags in the busy areas, transport routes, and roads leading to the hall, field, stadium, or arena.
Keep your young audience in mind while designing flags for events that trigger an adrenaline rush like a BMX event or combat sport.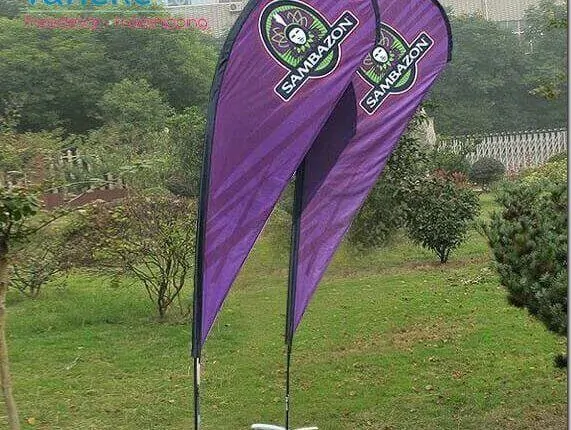 They are more attracted, and will most likely notice visually inspiring teardrop flags. It, of course, should also clearly mention the essential details of the event, like the date, venue, and time.
You get the best effects by printing this important information using contrasting colors. You could use a dark background and light-colored font, or a light background with a dark-colored font.
And there is one more important point to remember.
Stick to using only the regular, and easily understood font on teardrop flags. People may find it difficult to understand complicated fonts like something gothic.
2. Count the final countdown
It's during the days leading up to the event that you should work at the excitement reaching fever pitch. You may have first to ensure you have clearance to create a presence around the venue. You need to let passers-by know that the big sporting event they were waiting for is now just a few days away.
The best way to do this is by setting up teardrop banners on the roads and around the venue. It proves you are serious about the event, and in the process, increases your chances of drawing in a crowd.
You'll be surprised at how many people turn up to watch the event because of the excitement created in the last few days. They are mostly the people who walk down the same road every day. They end up entering the venue just because of the hype you had created.
3. Work at building your brand
Many people use the opportunity of a significant sports event to develop their brand. They print their best wishes on one side of the banner and have their logo, contact details, and name printed on the other side. This way, people at the venue are constantly reminded about the different businesses when they see the banners around the place.

You can, however, use other promotional items to build your brand even more. You may have to do it if you want spectators to come back to your next event.
It doesn't matter if the next event will be next week, month, or next year. Work at building your brand by designing some beautiful take away promotional gifts like a mug, coaster, or umbrella. You can give them to the crowd as souvenirs to take home.
It is a win-win scenario for both of you. It's a souvenir to the recipient and is a branding beacon for businesses. It reminds the public about the company and event whenever they see it.
It also gives them a reason to spread the word about the event far and wide. Remember, everyone loves to receive something free. Especially if it reminds them of the excitement and fun, they had at an event and which they can keep.
How to customize your sports team teardrop banner
Teardrop flags are great for not only advertising about a sports event but are also useful as a sign of support towards a particular team. No matter what the reason may be for a banner, here are some tips to help you print a useful flag.
• Try first to get a team picture
The best way to show your support for a team is by having the team picture on the flag. You can scour the internet for images if it's a great team, or get a team photo for the local football team.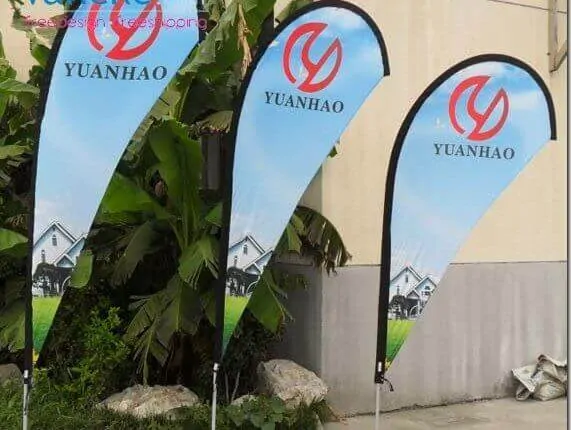 While it is possible to edit to group individual images together, it's not easy to do. Besides, you may need the help of someone with design expertise. However, if you have the time, teardrop banner manufacturers like vancke.com have an in-house team of designers. They will be more than ready to edit and group the individual photos if needed.
If you have the time, you may as well hire a professional photographer to click a team photo. If you do not have the budget for one, you may as well take one yourself with a good camera.
Yes, you can always conveniently take photos using Smartphone cameras. However, the resulting images lack the resolution to look great on the large-sized teardrop flags.
• Think of a design
Now that you have a team photo, it's time to think of an appropriate design for the banner. The first question you should ask yourself is the color of the flag's background.
You could perhaps use the exact color of the background in the photo taken for ease of blending and work. Or, if you are unhappy with the background, you can always overlay the athletes' images on a different background.
You will also have to decide what more you want to print on the banner. You may include the team names, logo, and if space permits, team player names. It's better to opt for a double-sided teardrop flag.
You have more space to print as much as you want because you can write whatever you want on both sides. There is no fear of any leaching of colors because there's a black mesh in between to prevent it.
If you are using the teardrop flag for promotional reasons, then you can print the team details on one side. You can then print your company name, contact details, and logo on the other side.
• Choose the right sized banner
Teardrop banners come in various sizes and designs. It is left to you to decide on the right sized flag. Do it based on what you plan to print on it, your budget, and where you plan to use it.
You can opt for taller flags to use outdoors and show your support to your team. The reason for a more towering flag outdoors is that it is easily visible from afar. The shorter banners are useful for use at the venue spot, both indoors or outdoors.
Yes. The fact that you can use your teardrop banners both indoors and outdoors is a reasons for its popularity. The flags you order will reach you with a minimum of two bases.
One base is for indoor use, and it is circular with a cross. You just have to set it up wherever you want. You can place a water or sand bag on it for added support so that it doesn't move or topple over. The other base you receive is a ground spike to poke and set up the flag outdoors, on soft ground.
• Make sure you place your order on time
Do not forget to place your order on time, well before the sports events. Most flag manufacturers promise that the flags reach you in a few days. However, you need to place your order so that it reaches you in time for its use.
If you are using it to bring hype to the sports event, then you cannot make any delays in placing an order. You have to start advertising at least a month before the event date.
So place your order early enough for the flags to reach you in time to start advertising. If the flags are for team support, then the flags should reach you about a fortnight before the event date.
Why you should use teardrop flags to promote sports events
If you wonder why you should invest in teardrop flags to show your solidarity to a team, well, there are various reasons for it.
• Most important is that it's not a one-time investment. So if you have a favorite team, you can use the same flags for some time before ordering a new one.
• These flags are built strong and durable to last at least a few years with minimal care and maintenance. Just disassemble the banner once the sports event is over, and it's not needed anymore.
You can then store it in its accompanying carrying case until the next use. If you have multiple matches, and will be moving from one venue to another, carry the flag in its carrying bag. You can then set it up wherever you want.
• Avoid using the flag outdoors in the sun for too long. The colors this way will remain bright and vibrant to use for a few years. There is no need to buy new flags every year with teardrop flags. An investment lasts for a few years.
• Though strong and durable, teardrop flags are easy to assemble and disassemble as you please. This means that you can do it alone, without having to wait for someone else.
• Besides, these flags are easy on your pocket. So you can afford to print your banners in bulk for both your team support and marketing needs. The flags give the best effects if you use the right colors, designs, and fonts in the design.
Don't fill up space too much. Keeping some space in between words and designs improves the clarity of the flags. They are then easily seen from a far and work better at creating hype for an event.
• It is always better to stick to the simpler fonts while printing on teardrop banners. Complicated fonts may look good on paper, but it's resolution isn't right on the flag. The letter will look duller or more illegible from afar.
Now you know enough about teardrop banners to use for your sports event marketing, it is time to place your order. Visit a teardrop flag printing site like vancke.com and place your order.
Make sure you give them your exact address so that there is no complication when they are delivering it. The last thing you want to happen now with the game nearby is the flags getting sent back to the sender. And that too because of the wrong address!
Once you receive your teardrop flags, you only need to spend some time setting them up. You will be proud of your work, and the effects of the flags on the event, crowd and team!
https://vancke.com/wp-content/uploads/2019/01/20190115-How-Custom-feather-Flags-Can-Help-Advertise-at-Sporting-Events-2.jpg
960
960
Allen Liu
http://vancke.com/wp-content/uploads/2017/03/logo.png
Allen Liu
2020-04-16 07:06:17
2020-06-20 13:35:32
Did you know that teardrop flags are great for promoting sports events?