Custom teardrop flag banners. If you wonder what they are, they are more than the ordinary flags you may see around you. These flags are special in terms of their vibrant colors, tear-shaped flags and their versatility in use. They can be used for both indoor and outdoor marketing, and in the process, help rake in more publicity and business for you.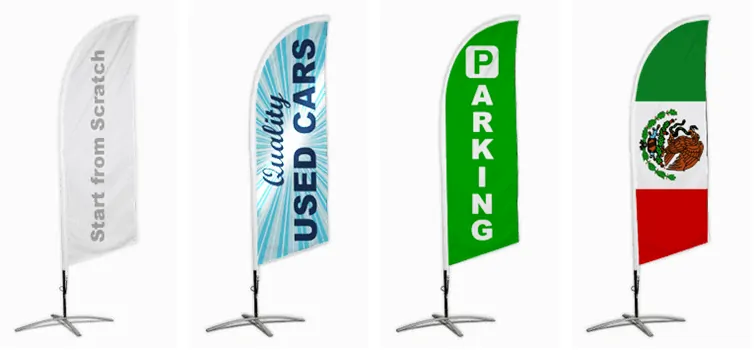 You can understand the effects of these flags if you consider yourself in a scenario. Supposing you were driving down a road and saw a few banners in front of you?
Which will be most attractive and give a bigger impact of your message to a passer-by? The black and white, rectangular flags supported on two poles or a vibrantly colored fluttering flag printed on glossy polyester material, standing upright from a single pole?
It's obviously the colorful, fluttering flag banner. These flags are designed tall so that they easily rise above your customer's visibility obstructions like hedges and cars.
They do not curl or fold when used outdoors, in windy conditions. Instead, the flag remains taut, but are still flexible enough to turn its 360-degree radius.
This is how it minimizes the strain on the hardware. In other words, while the flag remains taut when it is windy, it still flutters in the breeze to capture onlookers' attention.
Besides as these flag banners are uniquely shaped like a teardrop, there's more space on the top of the flag for you to print your message, and it's visible from afar. This is why these flags are fast growing in popularity as an effective advertising medium for all types of businesses.
Save money by reducing advertising costs
These flags can, in fact, help you make money in various ways.
First of all, it helps reduce your advertising costs, which means that you don't have to spend as much money on marketing as anticipated. You can use the same custom teardrop banners to advertise your new shop or business opening at the start of the business for a few weeks or months.
Then you can conveniently pull apart or dismantle these flags and store them in the carrying bag that you receive along with it. Then the next time you have an indoor trade show to attend and have a booth there, you can use the same teardrop banner to advertise your business.
There is no need of buying a new banner because a flag can be repeatedly used for as many times as you want for at least six months.
Save money with its versatility
These flag banners reach you with a variety of bases for you to choose and use as required.
In case of outdoor use, it's better to use its spike base which you can poke and mount into grass, sand, dirt or snow. It's however not that they are not strong enough to withstand strong winds.
If your chosen spot is a bit windy don't worry. These flags come with a water or sandbag which you can ideally use for outdoor conditions with winds blowing at the speed of 50mph.
In case of indoor use, you have a cross based to place on the hard surface like concrete floor and pavement and fly the flag. You can also place the same water or sandbags you had used outdoors on the base for added support.
Last longer with proper care
Most flag banners come with a conditional warranty of a year or two. This means that while the flags are designed to be strong enough to withstand winds up to 30 mph, and the dye sublimation printing is long lasting, it all depends on how well you take care of them.
The more careful you are about using and storing them, the longer the flags will serve you.  Keeping them in its carrying case when not in use, instead of lying around helps prolong its life.
You should not have a problem taking down the flag when required because you can anyway dismantle and set it up again yourself, without depending on another person. It is also better if you bring the flag indoors if the wind gets above 30 mph to prolong the flag's hardware and fabric life.
Similarly, the longer the flag is left outdoors in the hot sunlight, the quicker the colors of the flag eventually start fading. Though it's a good habit to wash the flags if soiled because of outdoor use, don't wash it too frequently. If you must wash it, use a mild soap or a gentle machine washes, and then hang the flag out to dry.
Taking good care of your flag, so that you can use the same one to advertise about your opening, your stall in a trade show or about special offers, without having to repeatedly pay for new customized teardrop flag banners.
Generate more business
The vibrant colors make the banners more attractive to passers-by, who in turn have a higher or better chance of doing business with you. This, in turn, spells more money for you.
These flags will let passers-by at trade shows, areas around your establishment and at sports or golf events know more about you. These flags will effectively market about your business, as long as you know how to design them properly.
Use proper colors
One of the drawbacks of vibrantly colored flags is that you may be prone to add as many colors as possible to make your banner look even more attractive and appealing to bystanders.
Little do most people know that they are actually doing more harm than good if they do this. You should know how to design your flag, where to place the different elements on the flag, how much of information you should print on the fag and also if you should opt for a single sided or double sided flag.
You should, in fact, design your flag based on the interests of your target audience. This means that if you are selling something that is appealing or used by the younger generation, then something that's bright in color has a higher chance of grasping their attention.
However, if you are catering to the adult segment, it's better to use some sober colors with perhaps more emphasis on using bold type fonts which can be easily read in a hurry, and from afar.
Whatever the clientele or audience, choose a background color that will improve the flag's text and images. Then choose a contrasting color for fonts which your audience will be able to read easily from even a distance.
It's good using a warm and cool color, and if the colors correlate with your corporate colors. It's through experience that most banner manufacturers suggest using a light color for your background, and the darker color for the fonts.
Use digital printing
The plus point of digital printing is that you have an unlimited choice of colors to choose your banner colors from. It's improved over the years and uses better technology like dye-sublimation on your flags.
The benefit of this technology is that it lets the ink penetrate through the material it's printed on. This, in turn, increases its durability, and also prevents the ink from fading due to prolonged and continual exposure to the outdoor elements.
Use your font and text wisely
When it comes to the font and text you use in your flag, don't stuff too much information on the customized teardrop flag banners. Remember, the purpose of these flags is mainly let people know about them, and make them curious or want to pay a visit to your establishment.
Just include your contact details and some important words about your business you want your potential customers to know about like Brand New Opening or Big Sale or Discount offers.
Use high-quality images
And if you plan to include some images on the flag, make sure they are high-quality ones with at least 300dpi. Choose and use pictures you feel highlight or bring out the best about the products or services you promote. It's better to use only a few clear images than cluttering the flag with several small images which are usually low quality.
Logos speak a thousand words
Don't forget to include your logo, and make sure it's placed on top of the flag. If you wonder why top, well it's because it's human tendency to read from the top to bottom. So whatever you feel is most important to get your brand across should be at the top of the flag, which usually is your logo.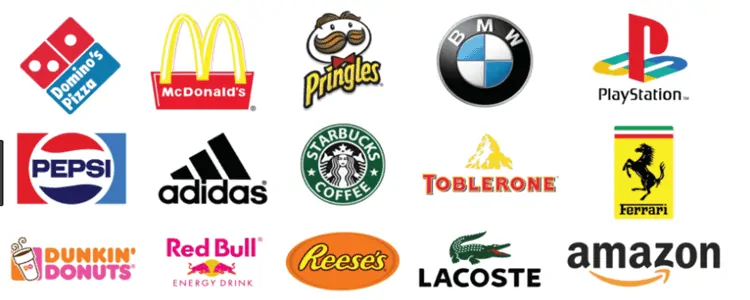 Simple fonts are most legible
It's always better to use simple typeface fonts like Aerial or Bodoni. Yes, there are lots of other attractively designed fonts you can use today, but they usually are not clearly visible from afar, making them a poor choice for your flag.
You can at the most use a unique font if you want to emphasize or highlight some word. And where possible, avoid using all caps as it only makes your message look cursive or shouting, and is also not that clearly legible by onlookers.
Include a focal point
What you can do to make your customized teardrop flag banner stand out from the competition is creating a focal point. This is what attracts the passers-by attention and the words you insert here are most likely to linger in their minds for a longer time. For better effects, you could perhaps highlight this word by using a different color, a larger color or perhaps bolding it.
A one-sided flag or two-sided flag?
If you need help deciding between single and double-sided flag, you have to choose based on the number of images and letters you want to print or use on the flag.
Single sided flags are a better option when you are designing a simple banner with large bold text that catches the eye. This is because based on the colors, the dye sublimation inks will bleed through about 80-90% of the flag.
This means that whatever is printed on the front side is also clearly visible on the back side, but will be reversed and read backwards. This is not the preferred choice if you intend to use lots of graphics and colors because colors will bleed and look untidy on the back side.
These flags, however, are better for outdoor use because its' material lets the wind pass through the flag with minimal wind resistance. And while the pole edge is webbed for added durability, the outer edges are hemmed.
In the case of double-sided flag banners, it is not actually a single flag. It's two flag banners sewn together. It has a block out inner liner that prevents the opposite side from showing through, and makes the content on both sides be seen and read correctly.
These flags are a better option for indoor marketing because it's usually read by customers from close-up, and with a longer read time. It's also the better choice if you plan to use more images on the flag, and if you want the content and graphics to be easily seen and read from either side.
Choose the right flag size
While choosing the size of the flag, it's better to choose based on where you plan to use it. Indoors or outdoors. If it'll be used outdoors, then it's better to look for larger flags measuring 9 feet or more because they are easily seen and visible from afar.
They make a better option if you want a flat that can be easily seen by foot traffic and not street traffic. You have to choose your indoor flag based on the height of the ceilings of the place you will be using it.
This is because you not only have to consider the height of the flag banner but also have to remember that the cross base will add a few inches to the height.
Don't worry if all this confuses you. Most flag manufacturers like vancke.com have their team of designers on board to help create customized teardrop flag banners for your business!