A teardrop flag can help market your coffee shop – Learn how!
Everyone loves coffee, making coffee shops high in demand. But with this demand are also an increasing number of coffee chains that may make it difficult for independent shops to make their mark.
The only and best way for you to get an edge over your competitors is through an efficient advertising campaign using the help of various media including teardrop flags.
There's also nothing better than word-of-mouth advertising, which you can achieve just by creating a customer friendly experience and atmosphere at the shop. This can be achieved by offering free Wi-Fi may bring in more customers to work while they sip their coffee.
Even loyalty and incentive programs will have your customers coming back for more and doing more repeated business with you. You can take your program to the next level by doing some research. Start keeping a track of the total coffee orders each customer makes and offer free coffee products once they spend a specific amount.
In addition to this, you also need some on-premises advertising. This is where teardrop flags come into the picture. You need a flag that clearly projects your coffee shop so that even people from afar will get to know about you.
It's all in the name
Most important is selecting a name for your store that relates to coffee. It should be something which will remind coffee lovers about your shop whenever they feel like drinking some. Of course, the name should also be easy to remember.
You then have to print this same name on your teardrop flag using the right colors and font. This way anyone seeing it will also remember the name of your store to pay a visit every now and then.
Use teardrops to advertise about promotions
You can also have some promotions which you can advertise about through your tear drop flags. It doesn't matter what you plan to have. It could be a live gig playing at your store on a certain day or a literary meet.
Make sure you print the details on your flag using bold and easily seen and read font so that anyone who sees it will understand it. As tear drop flags are tall they have a much better chance of reaching out to much more people.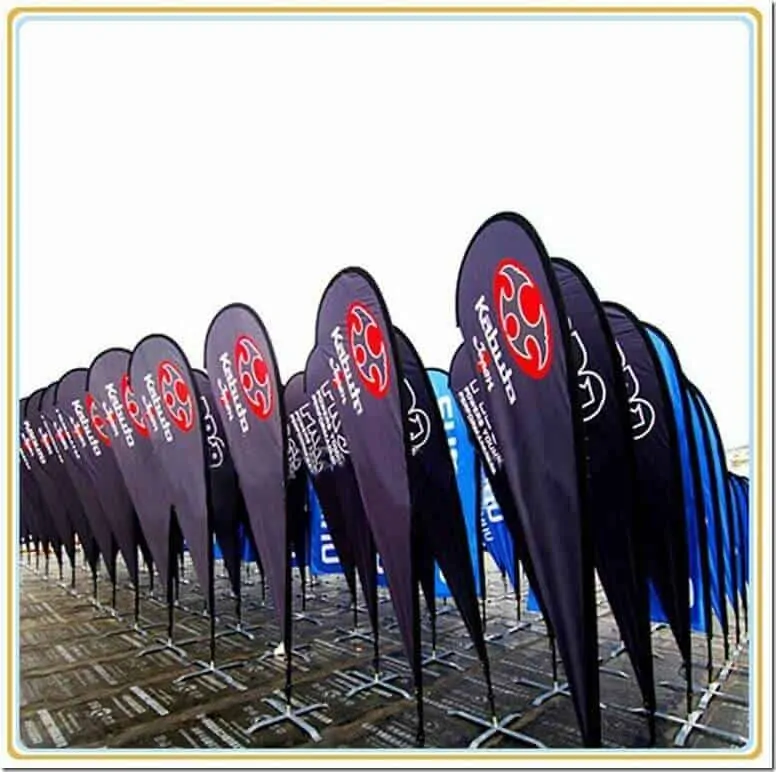 How teardrop flags can help with digital marketing
You can also use the help of digital and social media to advertise about your coffee store. You could perhaps start a website and blog, and post some interesting information and facts about coffee.
You can make things more interesting by publishing stories that developed over a cup of coffee. It's not enough to just create a website; you also have to make it reach as many people as possible.
This is where tear flags can once again help you. You can add your social network details like your website or blog URL, and your social network pages, onto the flag. People who see the flag will also learn about your online presence and consider visiting your website too.
What's so special about teardrop flags?
After reading so much about how tear drop flags can help advertise about your coffee shop you naturally wonder what is so special about it. Well, they are teardrop shaped flags which are also referred to as teardrop flag banners or teardrop feather flags.
Teardrop flags have a bendable flagpole. This is what keeps the flag taut once open, no matter if there's wind or not. The fact that the flag is taut makes whatever you've printed on it clearly visible to people near and far.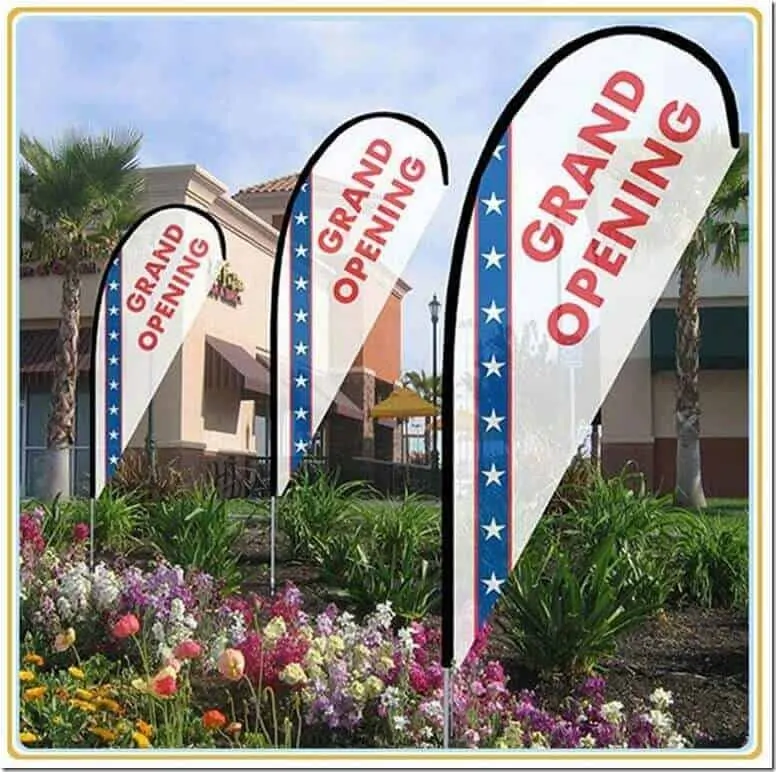 The flag
The flags are made of polyester and are usually double-helmed to prevent the fabric from fraying. This, in turn, gives the flag a professional look. The flags can be customized with your chosen images, font, and colors using a dye sublimation process. The flag is then attached to a lightweight aluminum and fiberglass flagpole.
Versatile in use
All you have to do is place the teardrop flag banner in front of your coffee store and it will attract the attention of everyone who passes by. You can choose to either stick the flag into the ground using its ground spike or you can place something heavy like a sandbag or water bag on its flag stand for added stability.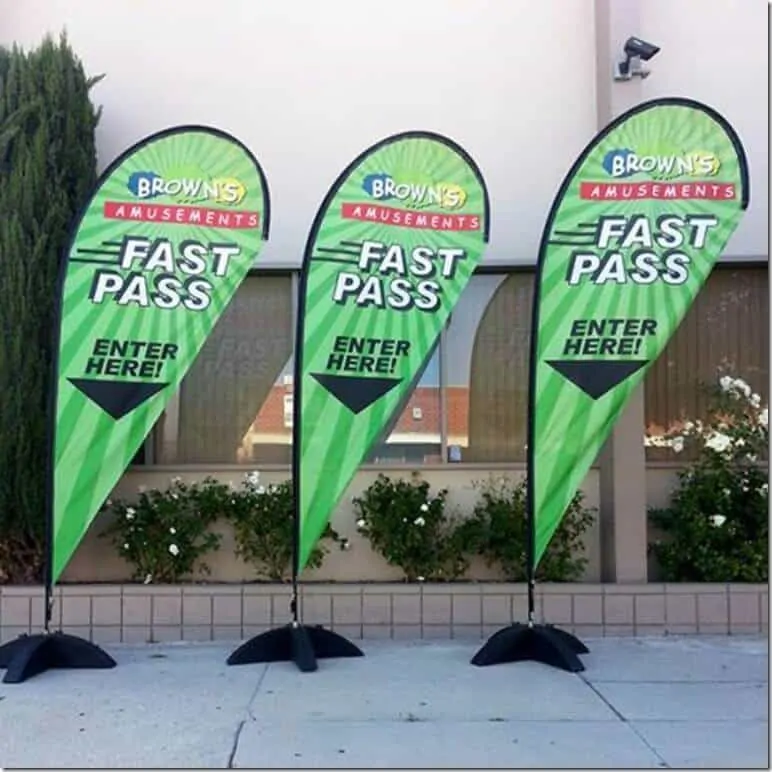 Why you should invest in tear drop feather flags
1. There are various reasons to buy a teardrop flag. The first important reason is that it is a cost-effective form of advertisement. This is because it can be used as many times as you want in as many places you want to advertise about your coffee shop.
2. It can be used both indoors and outdoors.  As long as you print a flag with your basic contact details, your store name and perhaps some interesting tag line, the flag won't be time sensitive. This in turn means that you can use it anywhere, and as many times as, you want.
You can use it to advertise about your shop in your neighborhood or you can participate in a trade show for people to identify your stall. You can even use it to advertise outdoors like at a golf tournament or sports event.
3. The flags are easily put down and set up. You do not have to wait for someone else to help you put up the flag. It comprises of the flag and stands which you can just fit and set up.
You just have to put all the poles together in the proper order and then unfold the flag and slide the pole through its pole insert. Do this till the flag is fully extended on the pole.
This is when the flag is ready and should be erected by inserting the pole base on whichever stand is best for it.  Even dismantling it is a cinch once you are done. And you just have to place its dismantled parts in the carrying bag that accompanies the flag.
4. The teardrop feather banner can be easily carried from one place to another. This is because it is both lightweight, weighing only 8 pounds, and conveniently stored in its carrying case.
The bag anyway fits into the back seat of your car and even in your car trunk. It goes without saying that such a small and light package will easily find someplace in your coffee store for storage purposes until you next need it.
5. You can opt between using both and only a single side of the flag.  Though you may have to pay a little more to have it printed on both sides, it is a better investment.
This is because it is the most visible and effective form of advertising using these flags. You can choose to print the same content on both sides, and something different on each side.
There is no chance of the content on both sides merging with each other. There is a lining in between the two sides that prevents one side from showing through to the other.
In case of the single-sided flag, it's printed only on one side, which makes the design print through. This means that the design will be slightly visible even from the back side.
This is why the double-sided flags are better for clearly advertising whatever you have to mention in the flag. While you may feel that it is a bit expensive, remember that it works better at getting your message across. Besides, you have more space to add more content or images onto the flag.
6. Teardrop flags are durably built for outdoor use. They are made of weather resistant material which means you can use them in both rainy and sunny weather.
But like any other printed material, the colors and design on the flag may fade away rather quickly if used continuously under the hot sun. So where possible, it is better to bring the flag in when it is really hot outdoors.
It is also better to bring in the flag in the cold winter months. This helps prolong the life of the flag so that it serves you for a much longer time.
7. As mentioned earlier, you have a choice of bases to choose and use for your flag, depending on where you intend to use it. Most flags like those from vancke.com come with a heavy square shaped metal base.
It can be used with the flag both indoors and outdoors where there is high foot traffic like conferences and expos and even in outdoor windy conditions.
You also have a cross base with four legs and foldable design that's ideal for indoor use. It is also a better choice if you have lots of traveling promoting your coffee store at different events.
Just make sure that as someone may trip over one of the four legs, it is better if the flag is set up somewhere safe with minimal risks of people tripping over it.
You can also use a water or sandbag to place on top of the cross base to securely anchor your flag. Then again, there is the ground stake that you can use to install the flag outdoors in solid soil for added stability when used outdoors.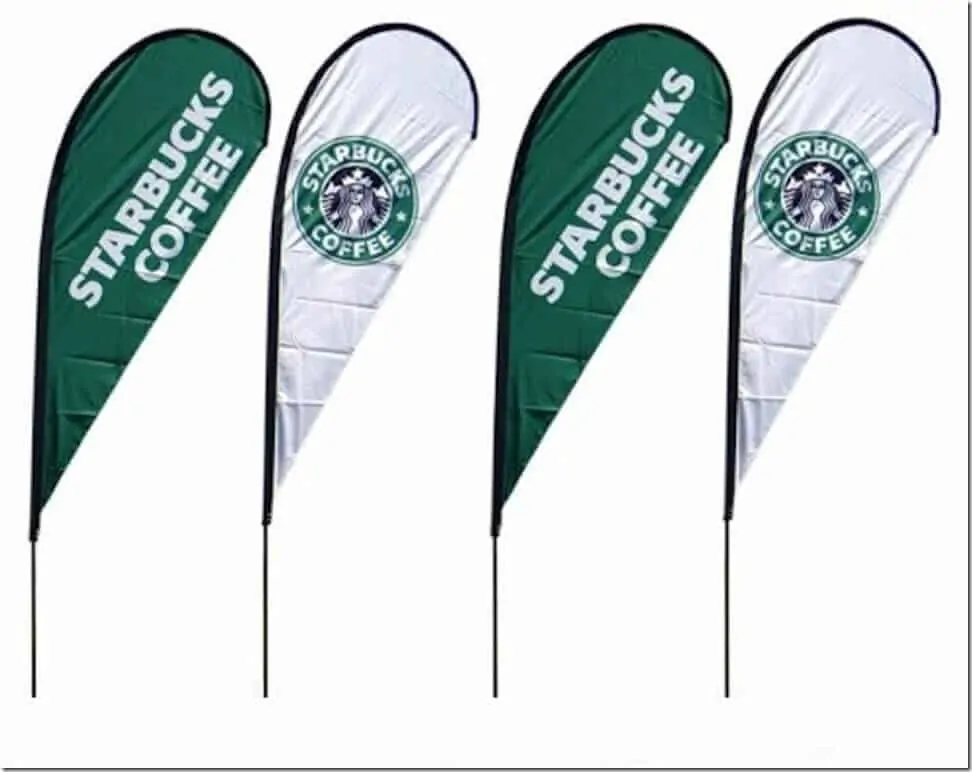 Look at how you can use your teardrop flags
1. Advertise about your coffee store even at the beach
As teardrop flags come with a spike as a base, you can easily set up the flag on the beach on a busy and crowded day. As the flags are found in various sizes, you just have to choose the tallest flag which you can set up at the beach, and are sure it will be seen by everyone there at the beach.
There however is one point to remember if you plan to use very tall teardrop flags. It is better to avoid using blue as it is background color. The flag will not be as visible as it would with any other color with its blue blending in with the sky color.
2. Use the flag on your opening day
There is no better time to use teardrop flags than on your opening day. You can have the words 'We are open today' printed on them or 'Open' to let coffee lovers know about you.
You can even make something unique by using multiple flags to convey a common message. This has a much better chance of attracting the attention of potential clients.
3. Advertise about your coffee store at outdoor businesses and car dealerships
Your flag will do a lot at attracting the attention of people passing by an outdoor business or establishment. Along as you create a colorful and informative flag it will definitely attract the passing traffic's attention.
Teardrop flags come in various sizes. It is better to choose the size based on where you plan to use the teardrop banner. The smaller sized flags are ideal for indoor use or to advertise about your store outside it.
You can also use the taller flags in front of your store if you are targeting drivers and people from afar to know about your coffee shop.
If you plan to go all out with the advertising about your coffee store it is better to order a few different sized flags at once to use as and where you want to.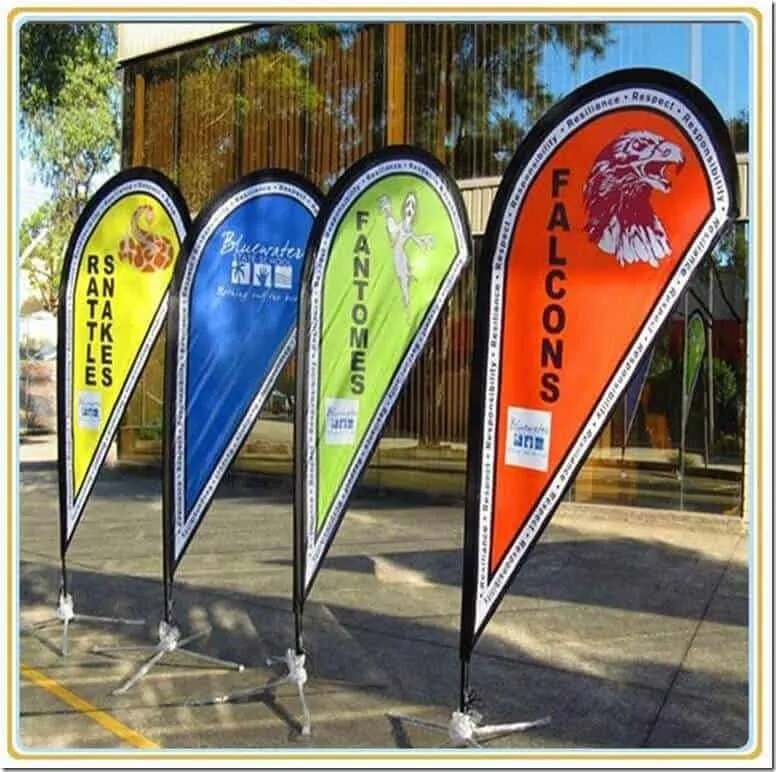 Teardrop flag maintenance
Everything lasts longer if well maintained, inducing your teardrop flag. You can give it a periodic wash in the washing machine. However, do not machine dry or iron them.
Let the flag air dry and once dry, store it away with the poles in its carrying bag till you next need it. Just doing this will let the flag advertise about your coffee shop for at least two years.
While you may use water or sandbag to weigh the flag down, it is better to stick to only one of them. In case you fill the bag once with water and next want to fill it with sand, then vancke.com suggests first letting the bag to completely dry before filling it with sand.
https://vancke.com/wp-content/uploads/2018/11/baseball-teardrop.jpg
1002
564
Allen Liu
http://vancke.com/wp-content/uploads/2017/03/logo.png
Allen Liu
2019-03-19 14:14:18
2019-03-19 14:14:18
A teardrop flag can help market your coffee shop – Learn how!