Marketing is a way of life for real estate agents. They not only have to market about themselves but also about the different residential and commercial properties they have to offer on sale or lease. And one of the best ways to do this is with open house feather flags.
If you wonder why open house flags are important for real estate agents it's mainly because of presentation. So many properties up on sale! You have to do something eye-catching and brings in as many potential visitors and customers for the property.
Besides, these blade banners are colorful and printed with large and bold text that anyone from afar and in a moving car can easily see and read. Another reason for using open house feather flags is its height. It's at least 6-8 feet tall, providing for increased reach and visibility. The flags are not only tall but also rather wide, making them easily readable in most weathers and conditions.
Teardrop banners are lightweight and water-resistant in structure. This is what makes it versatile and adaptable to use in most weather conditions. The flags are usually stretchable, making it ideal to pull taut over the flagpoles. It's also why the flags can flutter in the wind without tearing. The open house flags also have a cord connecting it to the pole. This is used to ensure the feather banner doesn't accidentally blow or fall off.
Last, but not least, real estate agents investing in feather flags open house make a long-lasting investment. These flags are portable, which means they can be used to showcase not a single open house, but as many properties as they manage and have to sell. As long as there are no dates or addresses printed on the flag, they can safely and portably use it at one property after another.
Many features add to the flag's portability. They include:
They comprise of poles which can be dismantled into various sections to easily fit into the feather flag carry bag that most companies like vancke.com provide with the flag.
You can just carry the flag around to put up in different properties. You can also dump all the sections into your car if you don't have the time and patience to stuff the pieces into a bag all the time.
But it's better to carry the pieces in a feather flag carrying case because it keeps all the parts organized and prevents last-minute confusions because of missing parts.
These banners have a feather flag ground spike which makes it all the more convenient to set up the banner anywhere there is grass. This means you don't have to wait for another person to help you set up the banner. There's a section on feather flag installation instructions later on which give you a detailed explanation to set up the banner with minimal hassles.
Besides, the flag easily fits into the poles in a matter of seconds. Once you have your pole and flag set up, you next slide the pole into the peg on the ground spike. This just about completes the feather flag assembly.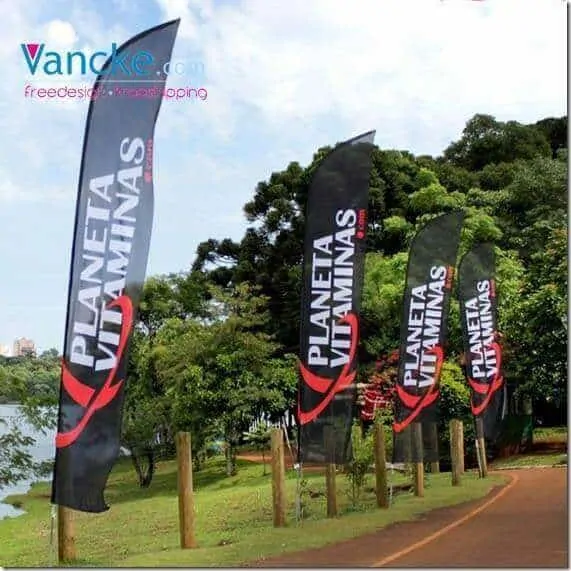 Customized banners for better effects
You can customize these swooper flags in any color and font you like it to be done. You could order a few with perhaps the messages 'For Rent', 'Open House', 'Auction' and '1-2 Bedroom' to use as and where appropriate for different properties.
Just make sure you select the right colors, and not something that may blend with the background colors. If you will be using it mostly outdoors, then avoid using green or sky blue colors as backgrounds. They may look invisible with the sky and lawns in the backdrop.
It's, on the contrary, better to use colors like red, orange or yellow that stands out and easily captures a person's attention. Of course, the message and font should be printed in a contrasting color to create an open house feather flag that will stand out from other advertising crops in the area.
You can place these multicolored flags on the front of a property for a better presentation. If your banners are of different colors, cohesively arrange them for improved attraction and visibility.
Best places to use real estate feather banners
It is left to you, the realtor to decide where you want to use your feathers. The most commonly used spots for maximum visibility and benefits include:
1)Large and small apartment buildings you represent and are trying to get them filled up
2)Any commercial properties you may be trying to sell and lease in busy business districts
3)Homes in communities across Australia where the flags can help generate enough buzz to promote and let prospective customs know about the properties.

Real estate open house feather banner flag kit
Your flag reaches you in a convenient carrying bag, perhaps with even compartments to neatly store the different flag parts. Do as you like:
Buy standard feather banners from the flag company or customize one using their pre-designed templates.
Provide your fonts, graphics, and colors if you have a design in mind. You need not worry if you do not have any design in mind or are finding it difficult selecting the right template for your realtor flags. Companies like vancke.com have their in-house designers who are ready to help you with your design.
These flags may seem an additional expense at first, however, once you realize how much exposure it provides you properties and how many more visitors you get; you will agree it's a worthy investment.
Save costs by ordering from companies that offer free shipping, usually for a base price. You can also ask for quotes to compare feather flags open house and decide which is the most economically priced and best for you.
Durably built open house teardrop flags
You will notice and agree that open house feather flags are much more durably built than normal real estate signs. The normal signs tend to easily fall and are open to theft. However, this is not the case of feather banners.
They stand tall in most weather conditions, be it rain, sleet, snow or hail. It's thanks to the construction, and the materials used for building the flag. The flag's made of high quality, weather-resistant materials which let it last for at least a few years.
It lasts even longer if you exercise some care while using it. For example, avoid keeping it in the hot sun for long hours.  So if possible, try bringing in the feather flag open house when it's really hot outside.

How feather flags outrun traditional signs
Traditional real estate signs were a hit sometime back before they had competition from open house teardrop flags. Traditional signs were more than enough for a realtor to advertise about their services and let passers-by know about them.
However now that feather flags have entered into the market, customers pay more attention to these banners than traditional signs. This is mainly because feather flags are more visible than the traditional yard signs. Anyone can easily read them both walking and driving by or in a moving vehicle.
So the chances of important and useful information reaching out to them are higher through feather flags. Besides, the chances of feather flags falling are much lower than the chances of traditional flags falling. Feather flags are also least susceptible to theft, giving you all the more reason to invest in these banners instead of the traditional ones.
Benefits of feather flags for realtors
You will notice a marked increase in the number of visitors to your open house. With this is the increased possibility of a few of them showing a keen interest in buying or renting your property. Consequently, there is a chance of one of them finalizing the deal.
Once you are known as the realtor who uses these attractive open house feather flags, it creates a brand for you. There is nothing more important to any business today than appropriate branding for improved visibility and recognition by people around you.
Feather flag assembly instructions
Now to end the article with a brief explanation on feather flag installation instructions. The first thing you need to do is look for the best place to set up the flag.
As mentioned earlier, most banners are about 8 feet tall. You have to decide on the best spot based on the type of sign you have.
So as long as the flag is visible then you know people will be able to read its contents. However, if you are having a single-sided flag, then you will have to place it in front of the direction people will be seeing it from.
This is important because the backside is not important or useful for you because it will only be a reflection of whatever is printed on the front side.
· Placing the ground spike for feather flag
Once you have decided on the right spot, it is time to take out the ground spike from your teardrop flag carry bag. Remove any protective covering on the spike's single-prong side and place it about 6 inches into the ground.
· Feather flag pole assembly
Now comes the part where you connect the 3 piece pole set by first connecting the 2 wider poles. Do this by inserting the wider side's thinner piece into the medium piece's thinner side. This makes the pole set's bottom and middle part. You last attach the remaining thin pole to the top of the medium piece.
· Attaching the flag and pole
Once the pole is ready it's time to attach the flag to it. Start by sliding the banner's bottom slit through the pole's thinner side. Then untighten the tie on clip that is located at the bottom of your pole. You then have to slide it up so that the flag's string hoop is tight.
Now place the hoop into the tie on clip and then insert the loop into the clip by applying some pressure on the clip's bendable part till the opening. Do this while sliding the flag's string loop within and allowing the clip to lock back in.
· Connecting the flag
It's when the teardrop flag is together that you place it into the ground spike's wider prong. It usually fits snugly together upon insertion, which is when you are ready and have set up your feather flag open house.
See, not complicated, right? You may find it a bit confusing at first, but you will find it much easier to do once you assemble and disassemble the banner a few times.
Just remember to disassemble and store the feather flag pole parts into the accompanying carry bag when not in use and when in transit. This will help preserve your banner's life.
It is the portability, pricing and eye-catching colors and design that makes these feather flags open house a necessity for real estate agents. Besides, the sight of the colors and bright arrangement of these flags that greet interested guests and potential clients in the property will be highly appreciated. You never know, one of these clients may show their appreciation by renting, or buying whatever property you have to offer!